Though I can go vacation without seeing a show, I usually like to work one in if I can. Fortunately for me, (because I missed them in New York), this time around I managed to catch Dan Boeckner and Alexi Perry, otherwise known as Handsome Furs, at Richard's on Richards last night (04/21) in Vancouver, BC.
Handsome Furs @ Richard's on Richards (04/21/08)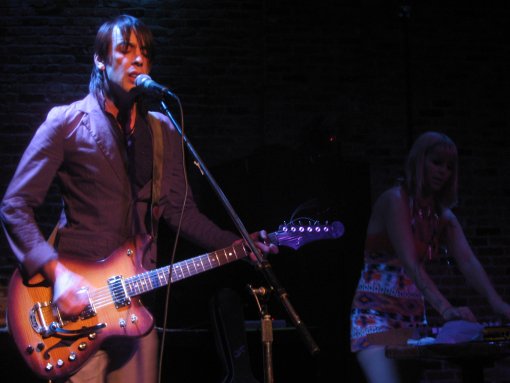 Check out the whole flickr set here.
Watching the two of them on stage, you really get the feeling that they love to play together (something I wouldn't have said about Wolf Parade last time I saw them play at The Warsaw). Also, it seemed to me like Alexi particularly enjoyed the spotlight, and I must say, the spotlight seemed to suit her just fine. Shawnigan Lake duo, Listening Party opened up the show and I wasn't particularly impressed with them especially compared to the energetic and enjoyable performance put on by the headlining duo as well as other shows I've seen lately by likes of The Ting Tings and The Ruby Suns (who are actually trio, but kind of perform in a weirdly duo-like fashion). As a post script, I spotted Wolf Parade guitarist and Johnny and The Moon frontman, Dante DeCaro, grinning in the wings during the Handsome Furs' set. Not a real surprise to see him there though, since Kill Devil Hills Records is home to both Listening Party and Johnny and The Moon.
In related Wolf Parade news, the new WP record is coming out on June 17th, and rumor has it the boys will be playing an "as of yet unannounced" show at Terminal 5 in July. The first single off of the new album, "Call It A Ritual", is streaming on their MySpace page right now.
One more photo after the jump.