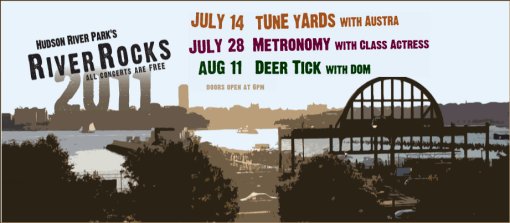 13th Annual Hudson River Park's RiverRocks Lineup
07/14 Tune Yards w/ Austra
07/28 Metronomy w/ Class Actress
08/11 Deer Tick w/ Dom
Free Summer Concerts Begin July 14 at Hudson River Park's Pier 54.
FOR IMMEDIATE RELEASE

Located adjacent to New York City's Meatpacking District (at 14th Street), the Pier 54 gates open at 6 p.m. for all RiverRocks shows, with opening performances scheduled to begin at 7 p.m. More information on the series is available at www.riverrocksnyc.com.

At a time when the once ubiquitous free summer concert appears to be on the decline in and around New York City, RiverRocks- Hudson River Park's signature concert series – continues to build upon its renowned reputation of annually presenting acclaimed and breaking bands on the Pier 54 stage.

"As the mecca of the popularly dubbed 'indie music scene,' New York City is home to a highly sophisticated and knowledgeable music audience that, year after year, turn out in mass on Pier 54 to support the acclaimed bands performing. This summer we will continue the pairing of great bands with great fans" said David Katz, Vice President of Marketing & Events at the Hudson River Park Trust.

In previous seasons, RiverRocks headliners have included The Antlers, Blonde Redhead, Brazilian Girls, Deerhunter, Matt & Kim, Phosphorescent, Ted Leo + Pharmacists, and Yeasayer, among others.

Hudson River Park is a 550-acre, 5-mile-long waterfront park stretching from Battery Place at the southern tip of Manhattan all the way up to 59th Street along the Hudson River (www.HudsonRiverPark.org).