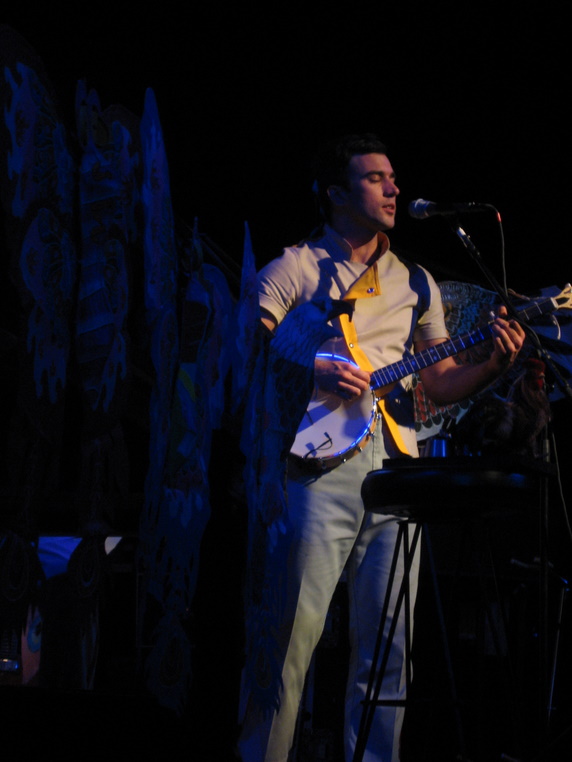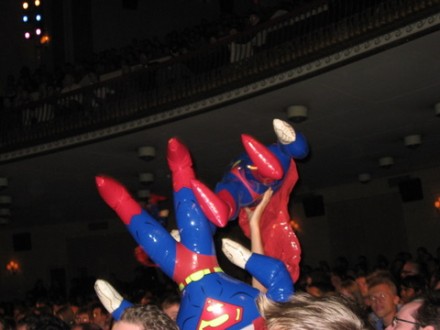 Loved the sound, loved the mood, all in all, a great show last night. Sufjan trotted out Superman, Santa Claus, 4 violinists, 2 violists, 2 cellists, 3 horn players, a drummer, a guitarist, a bassist and some other musicians all for our listening pleasure, (I couldn't really see stage left from my vantage point, so that's why I may be missing some). I think this show was even more enjoyable than the Lincoln Center show I attended, because the sound was fuller and the mood was much lighter. Sufjan played selections off of Seven Swans, The Avalanche, and Illinois, and the crowd ate it up. He also pulled out two new tunes, one was a Christmas ditty, called That Was The Worst Christmas Ever, (replete with inflatable Santas), and the other was ad ode to his band, called Majesty Snowbird. The Christmas song seemed good at the time, though it didn't leave a lasting impression on me. I felt he got a little self indulgent with the orchestrations on his new song, Snowbird, I think the song probably would have been better if it were stripped down and/or shortened, because I think it has good bones, but he just blew it up too big. But the evening wasn't about stripping anything down, it was about big sound and big costumes (wings to be exact). The evening was capped off with Casimir Pulaski Day, my favorite track of Illinois. I'd have to say, out of the three times, I've seen him, I think it was my favorite show, and I also have to give him credit, each show was unique and enjoyable in its own way.
Footnote: Here are some songs I would have liked to have heard last night, Adlai Stevenson, The Henney Buggy Band, Saul Bellow, and The Lord God Bird. If you're reading this, and you went to a different show, lemme know if he played any of them.
Footnote to my Footnote: Songs I could have done without, Majesty Snowbird and Supercomputer. As I said above, I thought he overindulged himself on Snowbird and I just think Supercomputer is a weak tune, (but it does lend itself to the orchestra).
Update: Setlist cribbed from the Music Slut.
Sister
Metropolis
He Woke Me Up Again
Transfiguration
Detroit
To Be Alone With You
Predatory Wasp
John Wayne Gacy
Worst Xmas Ever
Supercomputer
Jacksonville
Abraham
A Good Man Is Hard To Find
Majesty Snowbird
Chicago
—
Zombies
Casimir Pulaski Day