The bad boys from LA are back. Looking forward to hearing this one later on tonight.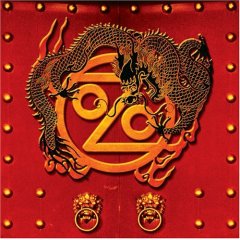 UPDATE: Wow, just listened to this album tonight and am sad to say it is a huge disappointment. It's basically unlistenable. Still, on the strength of their old material and their live show, I would still go pay to see them play.
Ozomatli are currently in the midst of a marathon tour from now until the end of the summer, catch them in a city near you! They're playing everyone's favorite venue, Webster Hall (with Outernational) on April 17th, tickets are still available and they are worth it.
TOUR DATES
7:00PM April 13, 2007 : London, England : Shepherds Bush Empire
8:10PM April 17, 2007 : New York, NY : Webster Hall
8:05PM April 18, 2007 : Baltimore, MD : Sonar Theatre
8:30PM April 19, 2007 : Falls Church, VA : State Theatre
7:55PM April 21, 2007 : Boston, MA : Paradise
6:00PM April 24, 2007 : Phllidelphia, PA : World Cafe
8:00PM April 26, 2007 : North Adams, MA : MASS MoCA
12:25PM April 28, 2007 : Indio, California : Coachella Music and Arts Festival
8:00PM May 4, 2007 : New Orleans, LA : The Republic
5:00PM May 5, 2007 : Phoenix, AZ : Patriot's Square Park – Ceasar Chavez Plaza
5:05PM May 10, 2007 : Dixon, California : Dixon May Fair
6:30PM May 11, 2007 : Pomona, CA : The Glass House
4:00PM May 12, 2007 : San Francisco, CA : KFOG Kaboom!
8:15PM May 26, 2007 : George, Washington : Sasquatch Festival
3:00PM May 27, 2007 : Geneva, MN : Festi Di Bella Luna – Harmony Park Music Garden
9:00PM May 29, 2007 : Nashville, TN : Mercy Lounge
8:00PM May 30, 2007 : Asheville, NC : Orange Peel
6:00PM May 31, 2007 : Knoxville, TN : Sundown in the City
3:00PM June 2, 2007 : Hunter, NY : Mountain Jam – Hunter Mountain
7:00PM June 3, 2007 : Pittsburgh, PA : Three Rivers Arts Festival
3:00PM June 8, 2007 : Wakarusa, Kansas : Wakarusa Music Festival
6:20PM June 10, 2007 : Los Angeles, CA : The Watercourt at California Plaza
2:00PM August 11, 2007 : Edmonton, AB : Edmonton Folk Festival