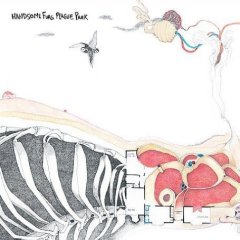 This just in…
Handsome Furs – Plague Park (Sub Pop)
Handsome Furs are Canadians Dan Boecker (Wolf Parade) and his fiancee, Alexi Perry. My first impression is that this a pretty decent record, it's a little dark for me, but it could be a grower.
Handsome Furs are playing at least one "local area" gig this month, if you feel like drivingto the City of Brotherly Love that is.
05/25/07 – Handsome Furs with Sam Jayne / Creeping Weeds – Philadelphia, PA (Khyber Pass Pub) – Tickets
Wolf Parade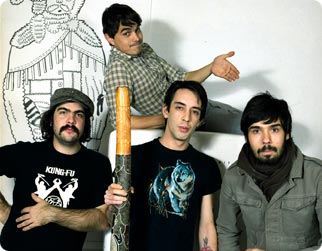 Boeckner's other band, Wolf Parade, are playing a few dates in August. They will be at the Warsaw on August 19th. Tickets go on sale here tomorrow at 12:00 pm.
Wolf Parade Tour Dates
AUG 19 Warsaw Brooklyn, New York
AUG 20 Theatre of Living Arts Philadelphia, PA
AUG 21 Black Cat Washington, DC
AUG 22 Cat's Cradle Carrboro, NC
AUG 24 La Sala Rossa Montreal, QC-CANADA
AUG 25 La Sala Rossa Montreal, QC-CANADA
AUG 26 La Sala Rossa Montreal, QC-CANADA
Hot Hot Heat

In other Wolf Parade related news, Dante DeCaro's ex-band mates Hot Hot Heat will release their third album for Sire Records on September 11, 2007, entitled "Happiness LTD." Hot Hot Heat's new album, the first with guitarist Luke Paquin, who joined the group after the departure of guitarist DeCaro, was co-produced by the band and an "array of top-notch producers".
Hot Hot Heat Tour Dates
May 10 Oklahoma City, OK Diamond Ballroom
May 11 Kansas City, MO City Market
May 12 Little Rock, AR Juanita's Cantina Ballroom
May 14 Albuquerque, NM Launchpad
May 16 Ft. Collins, CO Aggie Theatre
May 17 Morrison, CO Red Rocks Amphitheatre
May 18 Salt Lake City, UT Club Sound
May 20 Seattle, WA WaMu Theatre