You might not have heard about it on the news, but New Zealand is planning on invading New York over the next couple of days (and I'm not talking about Peter Jackson's CGI King Kong either — wow, what a lame joke that was). The Veils and fellow countrymen The Phoenix Foundation are in town promoting their respective new records. The festivities kick off at the Mercury Lounge Thursday night (tonight!) where a second late show (Tickets) has been added due to popular demand. On Friday night, the bands will be heading over to my home away from home, Union Hall (that show is sold out too).
The Veils

The Veils have a new record out now entitled Nux Vomica which Pitchfork kinda liked and some blogs did too.
The Veils Tour Dates
06/07/07 Mercury Lounge (Early Show) New York, NY
06/07/07 Mercury Lounge (Late Show) New York, NY
06/08/07 Union Hall Brooklyn, NY
06/09/07 Great Scott Boston, MA
06/11/07 DC 9 Washington DC
06/12/07 The Khyber Philadelphia, PA
06/14/07 El Mocambo Toronto, ON
06/16/07 Shelter at St Andrews Detroit, MI
06/17/07 Empty Bottle Chicago, IL
06/18/07 7th Street Entry Minneapolis, MN
06/19/07 Grand Emporium Kansas City, MO
06/21/07 Larimer Lounge Denver, CO
06/24/07 Plaza Club Vancouver, BC
06/25/07 Crocodile Cafe Seattle, WA
06/26/07 Doug Fir Portland, OR
06/28/07 Cafe Du Nord San Francisco, CA
06/29/07 Spaceland Los Angeles, CA
The Phoenix Foundation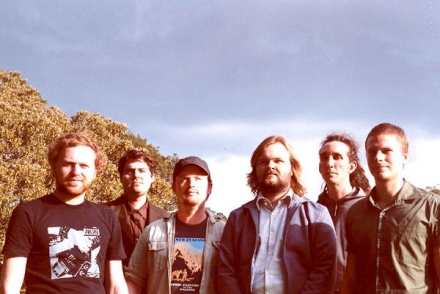 The Phoenix Foundation are another interesting band out of New Zealand who not only just released their debut album Horsepower on Young American Recordings, but they also wrote the score for the new Miramax film, Eagle vs. Shark. Eagle Vs. Shark is a quirky comedy in the vein of Napoleon Dynamite and stars Jemaine Clement, who is one half of the NZ musical comedy duo Flight of the Conchords (who also have a new show premiering this summer on HBO). In addition to the Veils dates, The Phoenix Foundation will be coming back to NYC to play the Eagle vs Shark Premiere Party on June 11th. EVS will be released in selected cities on June 15th.
The Phoenix Foundation Tour Dates
06/07/07 Mercury Lounge (Early Show) New York, NY
06/07/07 Mercury Lounge (Late Show) New York, NY
06/08/07 Union Hall Brooklyn, NY
06/09/07 Great Scott Boston, MA
06/11/07 Eagle Vs Shark Premiere Party New York, NY
06/12/07 Flight of the Conchords After Party @ World Cafe Philadelphia, PA