"Tearing The Veil of Maya, the best comedy show on Sunday nights in Park Slope." – Michael Showalter
Did you take my advice? Did you go check out Tearing The Veil of Maya last night at Union Hall? If you did, you'd know that we were treated to the always dependable announced lineup of Michael Showalter and Eugene Mirman along with three very funny unannounced guests which included: A.D. Miles, Kristen Schaal and David Cross! Flight of the Conchords was on the bill as well, but sadly they never showed up. Well, it was a shame they never made it, but it was an awesome night of comedy even without those damn kiwis.
David Cross at Union Hall June 10, 2007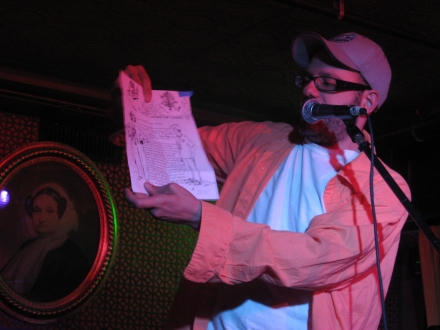 More of DC and all the Other Maya Performers on My Flickr Page
David and Eugene to Perform at the 100 Club in London
In the very near future, (June 19-23, 26-30), Eugene and David will be heading across the pond for a ten night residency at the 100 Club in London, England. If you plan on being in London at that time, click here to enter a contest to win tickets.