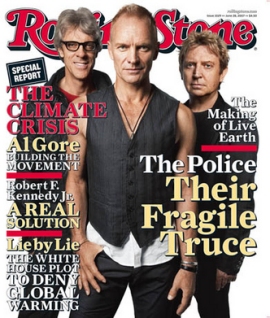 The new issue of Rolling Stone hits the news stands today (June 13) and features an in-depth interview with The Police conducted by David Fricke. There's also a nice little behind the scenes video over at RollingStone.com, which was shot by Jordan Copeland, Stewart Copeland's son.
In other Police news, I was highly amused by these remarks from Stewart Copeland himself over at the StewartCopeland.net forums
"Last night Sting did a big leap for the cut-off hit, and he makes the same move tonight, but he gets the footwork just a little bit wrong and doesn't quite achieve lift-off. The mighty Sting momentarily looks like a petulant pansy instead of the god of rock [emphasis added]. Never Mind. Next song is going to be great"¦"
– Stewart Copeland (Thanks MNG)
The Police will be headlining the Bonnaroo Music and Arts Festival on Saturday, June 16th and then continuing to tour around the world after that. Look for live streaming webcasts of Bonnaroo over at the AT&T blueroom from June 14 – June 17.