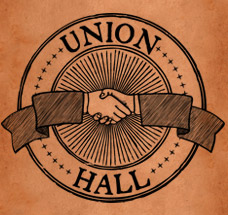 Union Hall's
First Anniversary week roster of shows
kicks off this Monday night and it should be a great week of entertainment for those of us in the Park Slope area. Though
Michael Showalter
spilled the beans a few weeks ago,
David Cross
and
Janeane Garafolo
have been officially announced as part of the
Tearing The Veil of Maya
show on
Sunday, July 15th
. A special surprise band is also slated to play Sunday night too (rumor has it they are from Montreal). Get there early folks!
Here's the full lineup again, in case you missed it:
07/09/07 – MATTHEW CAWS of NADA SURF + THE RAVEN MAYHEM
07/10/07 – JONATHAN COULTON + THE PETERSONS + GRAHAM SMITH + Dave Hill
07/11/07 – SECRET SCIENCE CLUB with Eric Kandel
07/12/07 – TIM FITE + THE MUGS + MC Reggie Watts
07/14/07 – ENON + guests
07/15/07 – TEARING THE VEIL OF MAYA: comedy with EUGENE MIRMAN, MICHAEL SHOWALTER, JANEANE GAROFALO & DAVID CROSS + more!
Oh yeah, Michael Showalter has also added two more comedy shows on July 25th. Tickets on sale July 9th at 12 noon on Ticketweb.com.
Skippy, what's on Friday???