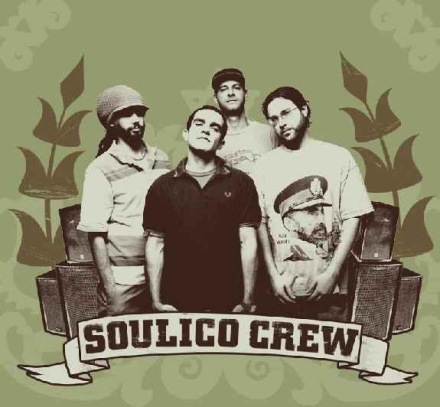 Our good friends over at The Music Slut just posted an interview with Israeli DJ's and After The Jump Fest night show performers, Soulico. Because I liked it so much, I'm posting a full on copy of that interview right here!
TMS: 8 Questions with Soulico
1. Can you tell me a little bit about what brought you guys together?
First, our parents are to blame. Then it was the music and the famous Tel
Aviv wild parties that we DJ at. The rest just happened….
2. Since the mid-90's hip-hop has grown in Israel. In many places where there is conflict, most recently about the riots in the Parisian suburbs, hip-hop has been an outlet for political discussion. How has this been true in Israel?
In a place where taking a breath is considered political, hip hop is also of course political. The main artists using music as an outlet are Hadag Nachash, Mooki, DAM (an Israeli-Arab crew) and Subliminal – they all present their political view in the music. We try to enjoy our life here.
3. Is it important to you to rap in Hebrew and not in English?
We're really just DJ's/producers, not rappers, but we love to collaborate in any language known to man. Hebrew has it's own unique flow though that people everywhere can enjoy.
4. You recently did a remix for Diplo, how did that come about?
On his last visit to Israel he came to see us DJ and asked us to put together a set to share on his blog of the most cutting edge music that been done here. Naturally you'll find in it some unreleased and in-the-making Soulico stuff.
Buy Tickets to After The Jump Fest Here!

5. I know you already have a big fan base in NYC. How does playing to an Israeli audience differ from an American one?
First of all – the mic thing. In Israel you would get your ass kicked out of the booth if you jump on the mic during a party, but it's different everywhere. Within Israel, there's also a big difference between playing in Tel Aviv versus Jerusalem – in how people react to the music. Basically though, Tel Aviv is more open minded than most places. People there are much more into pure fun rather than show me something that I haven't heard yet or play me something I've heard a million times.
6. Is there a wish list of artists you would like to collaborate with in the future?
Too long to be written here. Do you have Ghostface's number?
7. How do you decide which songs to mix and where do your influences come from?
We can't tell you all of our secrets, but we pull a lot from Israeli folk and traditional Middle Eastern melodies. The main influence though is street life in south Tel Aviv:)
8. Emmet- you are a teacher as well as a musician. Since After the Jump is about supporting local underfunded music programs, can you tell us a little bit about why music education is important for young students?
I know it's the standard answer, but children are the future and music empowers people to do more with themselves and to enjoy life. Simple as that.