After The Jump Fest MC Sara Schaefer is hosting a little show of her own tonight, it's called the Rejection Music Show and it's happening at the Ace of Clubs. Here are the full details:
The Rejection Music Show
Friday, August 24 @ 8:00 p.m., $10
Ace of Clubs (9 Great Jones St b/w Broadway and Lafayette)
Hosted by Jon Friedman and Sara Schaefer.
Performances by Sean Nelson & Jeff Lin of Harvey Danger, Adira Amram, and more!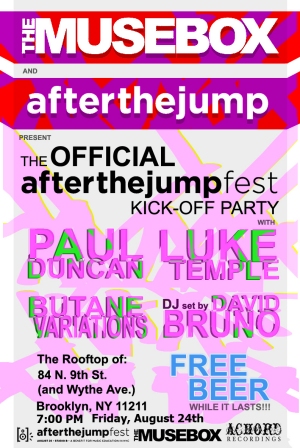 If you're not headed over to Sara's show, be sure to come check out our totally free After The Jump Music Fest Pre-Party hosted by The Musebox over at The Rooftop on 84 N. 9th St (and Wythe). It's free, there's gonna be free beer, and there will be performances by Luke Temple, Butane Variations, Paul Duncan and DJ David Bruno.