Since Australia's Dappled Cities are playing tonight at Union Hall, I thought now would be a good time to post my pictures from Dappled Cities last gig at Union Hall (on August 22nd).
Dappled Cities at Union Hall (August 22, 2007)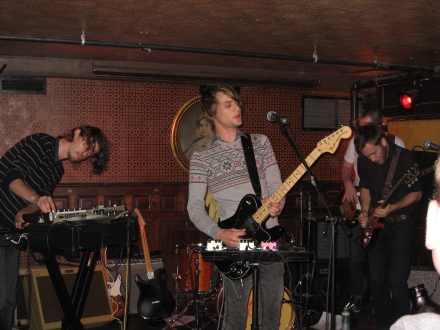 Check out my full Dappled Cities set on Flickr.com.
Tonight is Dappled Cities last listed gig in New York for the month of September, but they'll be coming back to NYC to play two nights the Mercury Lounge after spending the better part of October on tour with Copenhagen's Figurines.
Figurines w/ Dappled Cities Tour Dates
11/10/07 Crocodile Cafe w/ Figurines Seattle, Washington
12/10/07 Media Club w/ Figurines Vancouver, British Columbia
13/10/07 Berbatis w/ Figurines Portland, Oregon
15/10/07 Bottom Of The Hill w/ Figurines San Francisco, California
16/10/07 Spaceland w/ Figurines Los Angeles, California
17/10/07 Club Congress w/ Figurines Tucson, Arizona
19/10/07 Emos w/ Figurines Austin, Texas
20/10/07 Cavern Club w/ Figurines Dallas, Texas
23/10/07 7th St Entry w/ Figurines Minneapolis, Minnesota
24/10/07 Schubas w/ Figurines Chicago, Illinois
26/10/07 El Mocambo w/ Figurines Toronto, Ontario
27/10/07 Club Lambi w/ Figurines Montreal, Quebec
28/10/07 Middle East w/ Figurines Boston, Massachusetts
29/10/07 Johnny Brendas w/ Figurines Philadelphia, Pennsylvania
31/10/07 Mercury Lounge w/ Figurines New York, New York
01/11/07 Mercury Lounge w/ Figurines New York, New York