Two more MySpace Secret shows coming up, tomorrow (Sunday) night in Winnipeg you can catch Bedouin Soundclash at West End Cultural Centre and on Tuesday in NYC at The Knitting Factory you can catch Motion City Soundtrack with Farewell & Eons.
Bedouin Soundclash
Sunday, September 16th, 2007
Doors @ 7:00 PM
FREE! / All Ages!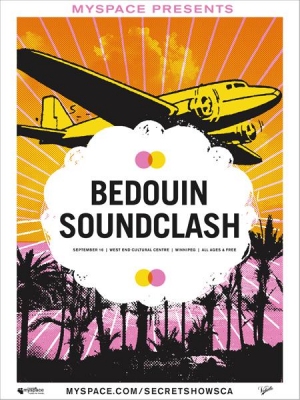 West End Cultural Centre
586 Ellice Avenue at Sherbrook
Winnipeg, MB R3B 1Z8
---
Motion City Soundtrack
Tuesday, September 18th, 2007
Doors @ 7:00 PM
FREE! / All Ages!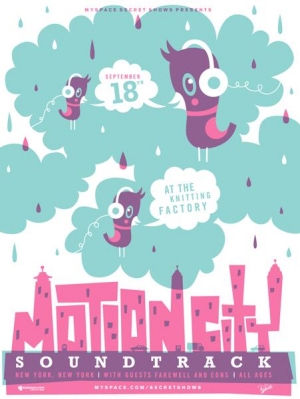 The Knitting Factory
74 Leonard St
New York, NY 10013
Space is limited. Arrive early and stay in line.
Minneapolis' Motion City Soundtrack (who?) have a new album coming out (available September 18 at Target) and a slew of dates coming up including one in NY at the much larger Roseland Ballroom on November 9.
Toronto's Bedouin Soundclash also have a bunch of dates coming up as well including a full on tour supporting Hot Hot Heat.
All tour dates for both bands after the jump.
Motion City Soundtrack Tour Dates
18 Sep 2007 MySpace Secret Show – Knitting Factory New York, New York
19 Sep 2007 Best Buy Store 1471 BOSTON
20 Sep 2007 Hot Topic KING OF PRUSSIA
21 Sep 2007 Looney Tunes – In-Store Signing WEST BABYLON
24 Sep 2007 MDH Manchester
25 Sep 2007 MDH Manchester
26 Sep 2007 The Leadmill Sheffield
27 Sep 2007 Academy Birmingham
29 Sep 2007 Garage Glasgow
30 Sep 2007 Cargo (formerly Temple Bar Music Centre) Dublin
02 Oct 2007 Lemon Grove Exeter
04 Oct 2007 Waterfront Norwich
05 Oct 2007 Astoria London
06 Oct 2007 Pyramid Portsmouth
07 Oct 2007 Metropolitan University Leeds
17 Oct 2007 Orbit Room Grand Rapids, MI
19 Oct 2007 Reif Center Duluth, Minnesota
20 Oct 2007 Sokol Auditorium Omaha, Nebraska
21 Oct 2007 Beaumont Club Kansas City, Missouri
23 Oct 2007 Verizon Wireless Theater Houston, Texas
24 Oct 2007 Stubbs Bar-B-Q Austin, Texas
26 Oct 2007 House Of Blues Dallas, Texas
27 Oct 2007 VooDoo Island/City Park New Orleans, Louisiana
29 Oct 2007 Jannus Landing St. Petersburg, Florida
30 Oct 2007 Revolution Fort Lauderdale, Florida
31 Oct 2007 House Of Blues Lake Buena Vista, Florida
02 Nov 2007 Tabernacle Atlanta, Georgia
03 Nov 2007 Amos Southend Charlotte, North Carolina
04 Nov 2007 House Of Blues North Myrtle Beach, South Carolina
06 Nov 2007 The Norva Norfolk, Virginia
07 Nov 2007 9:30 Club WASHINGTON, Washington DC
09 Nov 2007 Roseland Ballroom NEW YORK, New York
10 Nov 2007 Starland Ballroom SAYREVILLE, New Jersey
11 Nov 2007 The Palladium WORCESTER, Massachusetts
13 Nov 2007 Rams Head Live BALTIMORE, Maryland
14 Nov 2007 Electric Factory PHILADELPHIA, Pennsylvania
18 Nov 2007 Kool Haus Toronto, Ontario
20 Nov 2007 Newport Music Hall COLUMBUS, Ohio
21 Nov 2007 The Fillmore DETROIT, Michigan
23 Nov 2007 Eagles Ballroom MILWAUKEE, Wisconsin
24 Nov 2007 Myth SAINT PAUL, Minnesota
28 Nov 2007 Showbox SEATTLE, Washington
29 Nov 2007 Roseland Theater PORTLAND, Oregon
30 Nov 2007 Warfield Theatre SAN FRANCISCO, California
01 Dec 2007 Soma SAN DIEGO, California
03 Dec 2007 House Of Blues ANAHEIM, California
04 Dec 2007 The Wiltern LG LOS ANGELES, California
05 Dec 2007 Marquee Theatre TEMPE, Arizona
06 Dec 2007 House Of Blues LAS VEGAS, Nevada
08 Dec 2007 In The Venue SALT LAKE CITY, Utah
09 Dec 2007 Fillmore Auditorium DENVER, Colorado
11 Dec 2007 The Pageant SAINT LOUIS, Missouri
13 Dec 2007 Bogarts CINCINNATI, Ohio
14 Dec 2007 Agora Theater CLEVELAND, Ohio
16 Dec 2007 House Of Blues CHICAGO, Illinois
Bedouin Soundclash Tour Dates
15 Sep 2007 TCU Centennial Hall Saskatoon, Saskatchewan
16 Sep 2007 West End Cultural Centre Winnipeg, Manitoba
23 Sep 2007 Domino Room Bend, Oregon
24 Sep 2007 Wonder Ballroom Portland, Oregon
26 Sep 2007 Soma San Diego, California
28 Sep 2007 Majestic Ventura Theatre Ventura, California
29 Sep 2007 KEDJ Edgefest @ Schnepf Farms Queen Creek, Arizona
01 Oct 2007 Gothic Theatre Englewood, Colorado
03 Oct 2007 Fine Line Music Cafe Minneapolis, Minnesota
04 Oct 2007 Vic Chicago, Illinois
05 Oct 2007 St.Andrews Hall Detroit, Michigan
10 Oct 2007 Higer Ground Burlington, Vermont
11 Oct 2007 Paradise Rock Club Boston, Massachusetts
13 Oct 2007 Webster Hall New York, New York
14 Oct 2007 The Filmore at The Theatre of Living Arts Philadelphia, PA
15 Oct 2007 Rams Head Live! Baltimore, Maryland
17 Oct 2007 CenterStage Atlanta, Georgia
18 Oct 2007 The Social Orlando, Florida
19 Oct 2007 Culture Room Fort Lauderdale, Florida
20 Oct 2007 State Theatre Saint Petersburg, Florida
22 Oct 2007 17:00 Meridian Red Room Houston, Texas
23 Oct 2007 21:00 Emo's Austin, Texas
24 Oct 2007 Granada Theater Dallas, Texas
27 Oct 2007 Rialto Theatre Tucson, Arizona
30 Oct 2007 The Filmore San Francisco, California
04 Nov 2007 The Zodiac Oxford
05 Nov 2007 Southampton University Southampton
06 Nov 2007 Cardiff University, Great Hall Cardiff
07 Nov 2007 Plug Sheffield
08 Nov 2007 UEA Norwich
10 Nov 2007 Newcastle University NewCastle
11 Nov 2007 Classic Grand Glasgow
12 Nov 2007 Manchester Academy 2 Manchester
13 Nov 2007 Barfly Birmingham
15 Nov 2007 Stylus @ Leeds University Leeds
16 Nov 2007 The Forum London