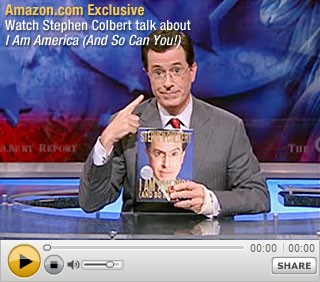 Stephen Colbert's I Am America (And So Can You) will be released on October 9th, 2007 and I, for one, am looking forward to it. Our good friends over at ProductShopNYC just posted some more Stephen Colbert book tour dates, and since I was looking for these myself, I thought I would post them here too.
Stephen Colbert Book Tour Dates
10/22/07 – Quill Awards, Jazz at Lincoln Ctr – New York, NY (By Invite)
10/23/07 – 92nd Street Y – New York, NY (Sold Out)
10/24/07 – Barnes & Noble Union Sq – New York, NY | 7pm (Free)
10/26/07 – Cornell University – Ithaca, NY | 7pm & 9pm | (Tickets)
11/16/07 – TimesCenter Stage – New York, NY | (Sold Out)
UPDATE: According to ProductShopNYC, his Steveness has added one more NYC date, he'll be appearing at the Apple Store Soho on October 16th at 8:30pm. This event will be free on a first come, first served basis (and man will it be packed).
Oh yeah, Stephen Colbert's Tek Jansen comic is also now available for pre-order on amazon.com. It will be released on December 7th.
And finally, it was just announced that TCR co-head writer and co-executive producer, Allison Silverman has been promoted to executive producer of "The Colbert Report". Mazel Tov to her.
Here's a link to an interview with Allison conducted by America's Radio Sweetheart, Jesse Thorn.