Hey folks, did you hear about this?
RockCorps @ RCMH: October 6, 2007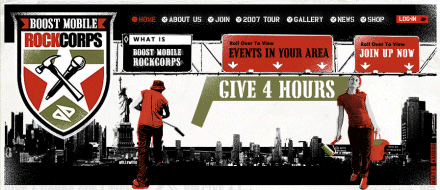 LUDACRIS, ANGELS & AIRWAVES, BUSTA RHYMES, THE RED JUMPSUIT APPARATUS, YOUNG JOC, FABOLOUS, KEISHA COLE and more! Special DJ guest, Biz Markie!
When: Oct 06, 2007
Where: Radio City Music Hall, New York, NY
Volunteer Dates: 08/18/07 – 10/06/07
What Is Rock Corps?
Boost Mobile RockCorps encourages volunteerism in young people. It was created to effect social change and act as a bridge between communities in need and the young people who want to make them better.
How Do I Get Free Tickets?
Every volunteer who gives 4 hours of service, receives a ticket to a concert featuring the hottest artists today.