Friday night I went back to the Music Hall of Williamsburg to check out Fujiya & Miyagi, Dirty On Purpose and Project Jenny, Project Jan. While this was my second time at the venue, it was really the first time I had the opportunity to explore the place in-depth and I must admit, I liked it pretty well. As some other folks have said, (which I will repeat here), it's pretty much exactly like the Bowery Ballroom, except newer and nicer. In my first review, I erroneously said that upstairs balcony was all VIP, but in fact, only the sides are reserved for VIP's, and Friday night, it seemed that even the plebes had access to those rarified areas. But enough about the venue, this time it's about the show right?
Project Jenny, Project Jan @ Music Hall (Sept 28, 2007)

Project Jenny, Project Jan kicked off the evening's festivities with an energetic set before a decent sized crowd or early showgoers. While I think this band is a lot of fun and I enjoyed their set, I think there music is suited better for a smaller venue, where they can really take command of the room. Having said that, none of the evening's other performers could match the energy of PJPJ front man, Jeremy Haines. Check out my PJPJ set photo on flickr.
Dirty On Purpose @ Music Hall (Sept 28, 2007)

I hadn't ever heard Dirty On Purpose before Friday night and I must admit, I was pleasantly surprised by their music. Unfortunately, their set was plagued technical difficulties, (which they may or may not have been aware of). On the first three or four songs, I couldn't hear any vocals at all, it's as if they were playing instrumentals. I kinda wonder if the band even knew it though, because I didn't hear any of the guys ask for more vocals. The other troubling thing about their set was, though they were by far the loudest band of the night, this didn't come out in their vocals, but it did unfortunately translate into plenty of guitar feedback (once again, get a new sound man guys). There is one possible explanation for all this though, and that is that the front row center of the Music Hall is kind of a musical dead zone where you can't hear all the sound. Yeti was there, and that's what he seemed to think. Didn't really explain why I could vocals on the other bands and not them, when I was standing in pretty much the same spot. Check out my DOP photo set on flickr.com.
Fujiya & Miyagi @ Music Hall (Sept 28, 2007)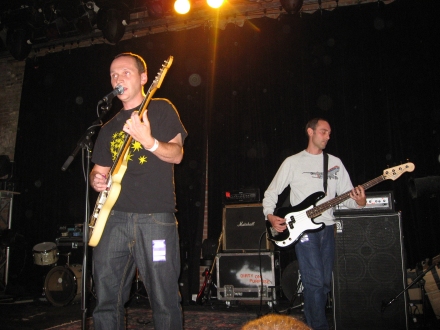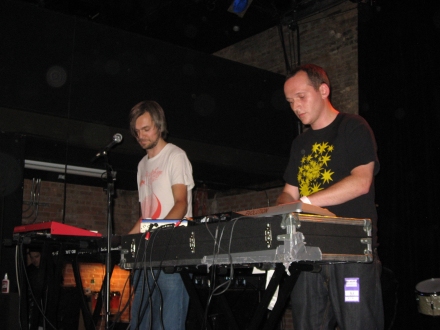 Fujiya and Miyagi were the evening's main attraction, and other than a couple of songs here and there, this was my first real exposure to the band. I gotta tell ya, I was a little underwhelmed. Maybe the record is better, but for my money, I'll take Small Sins over these guys any day. Check out my Fujiya & Miyagu photo set on flickr.com.