Well Canada isn't going to be the only foreign country represented at CMJ this year, it seems as if some of our Kiwi friends will be making the trip as well (but not The Phoenix Foundation sadly). On October 17 at The Delancey there's gonna be a little New Zealand get together hosted by famous TV band manager Rhys Darby (aka Murray Hewitt of FOTC). Here's what the lineup looks like:
Set Times and Artists
2:30 Liam Finn
3:00 The Brunettes
3:30 Cut Off Your Hands
4:00 The Checks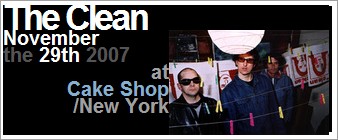 In other New Zealand related news, The Clean are set to play a three night residency at The Cake Shop on November 29, 30 and December 1. I assume if they are coming all this way, they must be playing some other cities, but I can't seem to find more tour dates right now. (There are a few David Kilgour dates out there, including one at Union Hall on November 9 and one at the Mercury Lounge on November 10, but nothing else with The Clean as far as I can see).