Miracle Fortress at Pop Montreal (CRED)

That Brooklyn Vegan fella is putting on a bunch of shows at CMJ this year, including one official CMJ showcase tonight (Tuesday) featuring an artist who put out one of my favorite records of 2007 (Five Roses). Montreal's Miracle Fortress (aka Graham Van Pelt) will be making his NYC debut at the Bowery Ballroom tonight (which would have happened at our last After The Jump Fest show if I had my way) at 8pm sharp. Oh yeah, while you're there, you might as well stick around for Most Serene Republic, Dean & Britta, The Rosebuds and Voxtrot.
If you can't make the Bowery show or don't feel like paying the cover charge, Miracle Fortress will also be playing a free In-Store performance the next day (October 17) at Sound Fix Records in Williamsburg.
Download: Miracle Fortress – Have You Seen In Your Dreams
Hot Springs at L'Agitee, Quebec (CRED)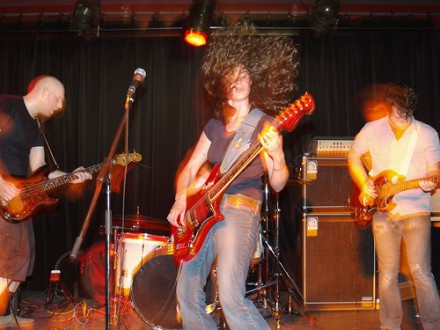 Hot Springs are another exciting Montreal band that are in town to play CMJ this year. They've got a brand new record out called Volcano, and they'll be showing it off at Club Midway on Friday Oct. 19 at 7:00 PM. Don't let this show pass you by, frontwoman Giselle Webber's stage antics are the stuff of legend.
Download: Hot Springs – Headrush (mp3)