Winnipeg's The Weakerthans will be headlining Webster Hall Tuesday night with Brooklyn's The Last Town Chorus and Canadian Jim Bryson in the supporting spots. The Weakerthans are of course promoting their just released ANTI-Epitaph record, Reunion Tour, and are in the middle of a tour that will last them well into December.
Last Town Chorus – Modern Love

The Last Town Chorus are a Brooklyn collective fronted by lap steel guitarist and songwriter Megan Hickey. Their most recent release entitled, Wire Waltz (Hacktone), featured a cover of David Bowie's Modern Love which was shown on the popular US television program Grey's Anatomy. Check out the video for Modern Love above.
Jim Bryson and Kathleen Edwards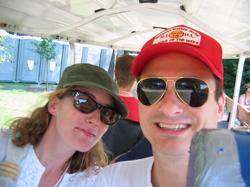 Ottawa's Jim Bryson was a founding member of the band Punchbuggy, and currently performs as a solo artist and member of Kathleen Edwards's touring band. Among other things, he'll be playing some songs off his latest record Where the Bungalows Roam (Kelp Records).
More tour dates for all bands after the jump.
The Weakerthans tour dates are in this post.
Last Town Chorus Tour Dates
30/Oct/07 Webster Hall – w/ The Weakerthans New York, NY
01/Nov/07 Paradise Rock Club – w/ The Weakerthans Boston, MA
24/Nov/07 Queenscliff Music Festival Queenscliff, Australia, Victoria
25/Nov/07 Queenscliff Music Festival Queenscliff, Australia, Victoria
27/Nov/07 Northcote Social Club Melbourne, Australia, Victoria
28/Nov/07 Ruby's Lounge Belgrave, Australia, Victoria
29/Nov/07 Hopetoun Hotel Sydney, Australia, New South Wales
30/Nov/07 Nothern Newcastle, Australia, New South Wales
01/Dec/07 Clarendon Guest House Katoomba, Australia, New South Wales
02/Dec/07 Brass Monkey Cronulla, Australia, New South Wales
05/Dec/07 The Zoo Brisbane, Australia, Queensland
06/Dec/07 The Soundlounge – w/ Kate Miller-Heidke Currumbin Gold Coast, Queensland, Queensland
07/Dec/07 Joe's Waterhole – w/ Kate Miller-Heidke Eumundi Sunshine Coast, Queensland, Queensland
Jim Bryson Tour Dates
30/Oct/07 Webster Hall New York, NY
01/Nov/07 Paradise Rock Club Boston, MA
13/Nov/07 Club Passim Cambridge, MA
14/Nov/07 Living Room New York, NY
18/Nov/07 WXPN World Cafe Live Philladelphia, PA
22/Nov/07 New Slang Kingston, ON