MySpace Secret Shows Presents: An Evening with Sigur Ros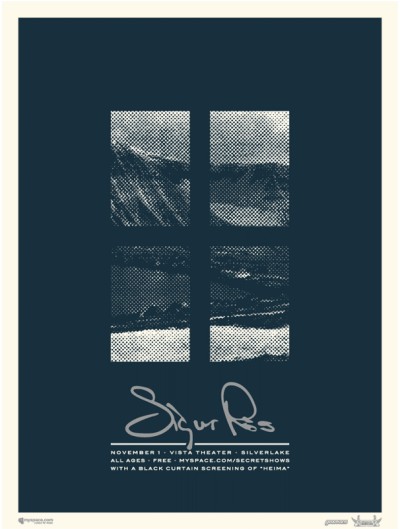 Featuring a performance and special screening of their new film Heima.
Thursday, November 1st, 2007
FREE! / All Ages!
Doors @ 10:00 PM
The Vista Theatre
4473 Sunset Blvd. @ Hollywood Blvd
Los Angeles, CA 90027
For entry you MUST go to Amoeba Records on October 30th (sorry yesterday!) from 6-9 p.m. to pick up a wristband.
Heima will be available on DVD on November 20, 2007. Heima will be released as a two disc DVD set, disc one features the 97 minute tour documentary/film, plus a bonus 'Producer's Commentary' by band manager John Best, and disc two includes almost two hours of full length live performances (with different edits than those used in the film) and other extras. There will also be a special edition of 'Heima' available including a 116-page photo book and deluxe packaging. For more detailed information including production notes and a tracklisting for disc two, visit the official film homepage at www.heimafilm.com. You can take a special sneak preview look at a live performance of 'Gitardjamm' over at spinner.com.
Hvarf-Heim, the companion record to the film, will be available for purchase on November 6, 2007.
[It] has two titles because it is in effect two separate, but complementary, entities, with two front covers and a limited run of two discs. Open it one way and it's 'Hvarf' ("disappeared" or "haven"), a five track electric studio record comprising mainly unreleased rarities from Sigur Rós's back-pages, none of which is on 'Heima'. Open it the other way and it's 'Heim' ("home"), a six track live acoustic record, comprising delicate new unplugged versions of some of Sigur Rós's best moments, which have never been performed before.
See a list of UK screenings of Heima after the jump.
UK regional screenings of 'Heima'
Leeds – Hyde Park Picturehouse
Date(s): 2nd and 3rd November
Time(s): 23.00 2nd/22.30 3rd
Price(s): £5.50/£4.50 (concession)
Online: www.hydeparkpicturehouse.co.uk
Glasgow – Film Theatre
Date(s): 5th November
Time(s): 20.45
Price(s): £5.50
Online: www.gft.org.uk
Liverpool – FACT
Date(s): 30th November
Time(s): 18.30
Price(s): £6.50/£4.50 (FACT members)
Online: www.fact.co.uk
Cardiff – Chapter Arts Centre
Date(s): 3rd-6th December
Time(s): TBC
Price(s): £5.40
Online: www.chapter.org
Newcastle – Tyneside Picture House
Date(s): 8th December
Time(s): 22.00
Price(s): £6.50/£5.50 (concession)
Online: www.tynecine.org