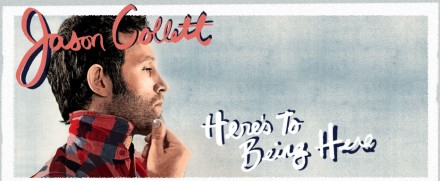 Download: Jason Collett – Out Of Time (MP3)
Download: Jason Collett – Charlyn, Angel of Kensington (MP3)
Hot on the heels of Dan Bejar's new project, we bring you another new record announcement from a member of a Canadian supergroup. Jason Collett, of Broken Social Scene, is set to release a new solo record, Here's To Being Here, on February 5, 2008 on the venerable Canadian indie label Arts and Crafts.
Here's To Being Here was recorded and produced in Collett's hometown of Toronto, ON, by musician/producer Howie Beck. The album also features guest performances by fellow Broken Social Scene member and Apostle of Hustle front man Andrew Whiteman, as well as Tony Scherr (Norah Jones, John Scofield), Liam O'Neil (The Stills) to name a few.

Jason will be touring North America throughout November, supporting label-mate, Feist, as well as part of select Bluebird North dates. A special series of shows titled "Jason Collett's Basement Revue" has recently been announced for Dec 4, 11 and 18 at Toronto's The Dakota Tavern. Jason will perform songs from Here's To Being Here, as well as many favourites from his previous releases (Idols of Exile, 2005 and Motor Motel Love Songs, 2003) with the help of special surprise guests who will be featured throughout the series.
Check out the new JC tour dates after the jump. No NYC date announced as of yet.

Jason Collett Tour Dates
11/10/07 Ottawa, ON – Algonquin Room @ Delta Ottawa Hotel with Christopher Ward, Pascale Picard, Russel Decarle
11/14/07 Denver, CO – Ogden Theatre with Feist
11/16/07 Madison, WI – Orpheum Theatre with Feist
11/17/07 Chicago, IL – The Riviera Theatre with Feist
11/18/07 Columbus, OH – Wexner Center with Feist
11/20/07 Louisville, KY – W.L. Lyons Brown Theatre with Feist
11/21/07 Nashville, TN – Ryman Auditorium with Feist
11/24/07 Halifax, NS – The Music Room with Christopher Ward, Catherine Maclellan, Jordan Croucher
12/04/07 Toronto, ON – The Dakota Tavern
12/11/07 Toronto, ON – The Dakota Tavern
12/14/07 Kingston, ON – The Grad Club
12/18/07 Toronto, ON – The Dakota Tavern