The Blakes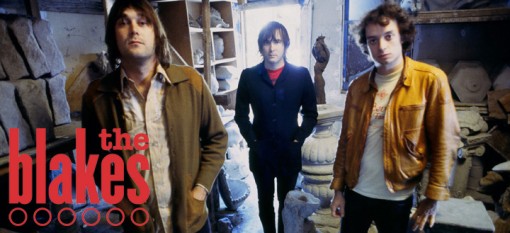 Sorry for the late notice, but a band from Seattle called The Blakes is playing NYC tonight (Nov. 24) on their very first national tour. They'll be at the Main Space at the Knitting Factory at 7:00PM along with The Shackletons, Only Son, and El Fuego. Have a listen to The Blakes over their MySpace page, I think they sound pretty good.
Download: The Blakes – Two Times (MP3)
More The Blakes tour dates after the jump.

Nov 24 @ The Knitting Factory – New York, NY
Nov 26 @ The Silver Dollar – Toronto, ONT
Nov 27 @ Luna Music – Indianapolis, IN
Nov 28 @ The Pageant – St. Louis, MO
Nov 29 @ Darkroom – Chicago, IL
Nov 30 @ Vaudeville Mews – Des Moines, Iowa
Dec 01 @ 7th Street Entry – Minneapolis, MN
Dec 02 @ Jackpot – Lawrence, KS
Dec 04 @ The Fox – Boulder, CO
Dec 05 @ The Black Sheep – Colorado Springs, CO
Dec 06 @ Larimer Lounge – Denver, CO
Dec 08 @ Neurolux – Boise, ID
Dec 09 @ Bourbon Street – Spokane, WA
Dec 12 @ Logan's – Victoria, BC
Dec 13 @ The Media Club – Vancouver, BC
Dec 14 @ Crystal Ballroom – Portland, OR
Dec 15 @ The Old Fire House – Redmond, WA
Feb 08/08 @ Bend WinterFest – Bend, OR