Ra Ra Riot @ After The Jump Fest (August 25, 2007)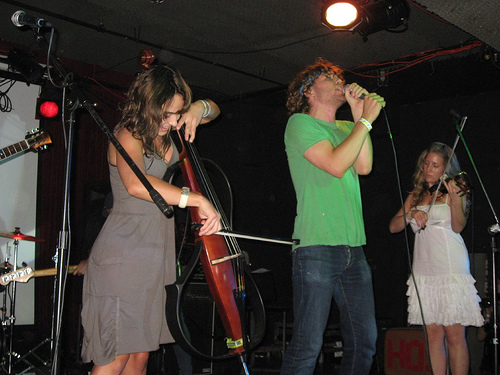 Saturday night proves to be another night of tough musical choices. Ra Ra Riot is playing their only local show for the foreseeable future at Union Hall along with the excellent Jukebox The Ghost. The show is long sold out, but try your luck at the door.
Riachard Hawley by Danny North

Across a bridge, Richard Hawley is kicking off his North American tour in support of his new album, Lady's Bridge (Mute). Richard is playing an early show at the Bowery Ballroom along with ProductShopNYC favorite, Ferraby Lionheart. In theory, it may be possible to catch both shows, if you hustle back to Brooklyn right after Richard ends his set. Well, if you really can't catch Richard on Saturday night, according to reliable sources he is also playing an in-store at Other Music (not Soundfix) on December 3 at 8pm.
More Richard Hawley and Ra Ra Riot tour dates after the jump.
Richard Hawley Tour Dates
12/01 – New York, NY @ Bowery Ballroom
12/02 – Philadelphia, PA @ World Café Live
12/03 – New York, NY @ Other Music
12/04 – Cambridge, MA @ TT the Bear's
12/06 – Chicago, IL @ The Abbey
12/07 – Minneapolis, MN @ 400 Bar
12/10 – Seattle, WA @ Crocodile Café
12/12 – San Francisco, CA @ Café du Nord
12/13 – Los Angeles, CA @ Troubadour
Ra Ra Riot Tour Dates
11/30 – Washington, DC @ Rock and Roll Hotel w/ Jukebox The Ghost and These United States
12/01 – Brooklyn, NY @ Union Hall
12/15 – Cambridge, MA @ Friends of John Benefit Concert @ Middle East Downstairs w/ Tokyo Police Club and Vampire Weekend