Here it is, check it out: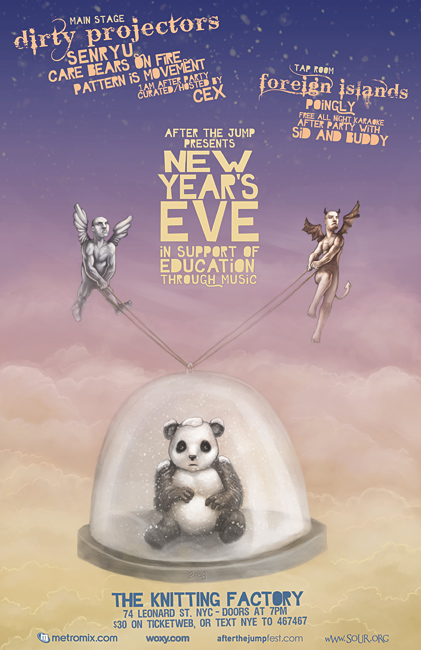 Buy Tickets Here!
This show is shaping up to be pretty awesome, here is some more info:
Main Space Schedule
11:30 pm: Dirty Projectors have recently come off a heralded tour, selling out cities across the country, including NYC's Bowery Ballroom. Their 2007 album Rise Above received an 8.1 on Pitchfork.
10:30 pm: Senryu have toured the southeastern U.S. since 2001, selling tens of thousands of cds and gathering a legion of obsessed fans. Recently, nationwide audiences and critics have caught on with an interview feature on TheMusicSlut.com (named by Billboard as one of the Top 20 Music Blogs) and tons of local radio play. Senryu owes a big debt of success to the guidance Knoxville music veteran Don Coffey Junior. He has produced the bulk of Senryu's releases to date, but you might know him better as drummer and founding member of Superdrag.
9:30 pm: Care Bears on Fire have been everywhere lately, from guitarist Sophie playing her song on a national converse commercial, drummer Izzy on the front page of USA Today, the band named in Billboard's Top Ten critic's choice and features in New York Magazine, The Village Voice, and on NPR. At age 12, Care Bears on Fire already have the career any older musician would die for.
9:00 pm: Pattern is Movement are the definition of "blog darlings." Receiving praise from heavy hitters such as Stereogum, who was at their recent sold out NYC show and called the band their "new obsession," and Gothamist, who chose them to play their CMJ showcase. They have recently come off some sold out dates with Dirty Projectors.
Main Space After-Party
starts at 1 am – FREE with main space ticket, $10 without:
hosted by Cex , with special guests Ecstatic Sunshine, Wzt Hearts
Cex is a musical project helmed by Rjyan Claybrook Kidwell and started in 1998 at the age of 16. Although Cex and Kidwell are frequently used interchangeably, Cex occasionally expands to several people at sporadic points, such as particular tours or albums. In the past it has included Kidwell's musical associates, friends, touring partners, or high school bandmates.
Tap Room Schedule
11:00 pm: Foreign Islands are the best and most thrilling live dance-punk bands in NYC today according to Rolling Stone, Oh My Rockness, NME, Spin, Disorder, The Fly…
10:00 pm: TBA
9:00 pm: Poingly have been described by CMJ as "Sugar-coated punk angst served with a side of hot, sweaty electronica" and by the Village Voice as "a sassy, electro-punk one-woman band." We are pretty sure Poingly is a dude but at least the sentiment was right.
Tap Room After-Party
starts at 12:30 am
Karaoke hosted by Sid and Buddy ! – FREE