Today is the Day!
Come Celebrate New Year's Eve with After the Jump at Knitting Factory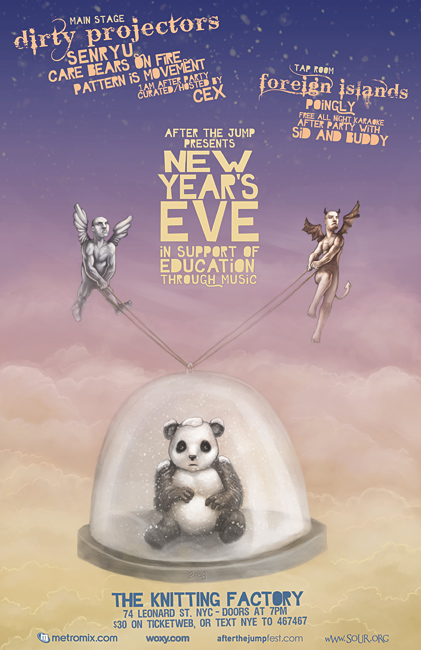 Now with FREE BOOZE!
Reduced $20 tickets through ShopText!
And O'death djing the Main Space b/t bands!
Text NYE to 467467 to buy reduced admission tickets for $20!
or
Buy tickets via Ticketweb here!
$30 in advance, $35 at the door
*Doors to the front bar are at 7pm, with $3 drinks from 7-8pm. Come join us for a little pre-gaming before the main show starts!
*Make sure to stay until 4am for all the after parties. Free liquid courage in the form of Rolling Rock in the Karaoke Tap Room from 12:30 until it runs out
Knitting Factory Main Space
11:30 pm: Dirty Projectors
10:30 pm: Senryu
9:30 pm: Care Bears on Fire
9:00 pm: Pattern is Movement
Main Space After-Party
starts at 1 am – FREE with main space ticket, $10 without:
hosted by Cex , with special guests Ecstatic Sunshine, Wzt Hearts
Knitting Factory Tap Room
11:00 pm: Foreign Islands
10:00 pm: Neimo
9:00 pm: Poingly
Tap Room After-Party
starts at 12:30 am
Karaoke hosted by Sid and Buddy ! – FREE