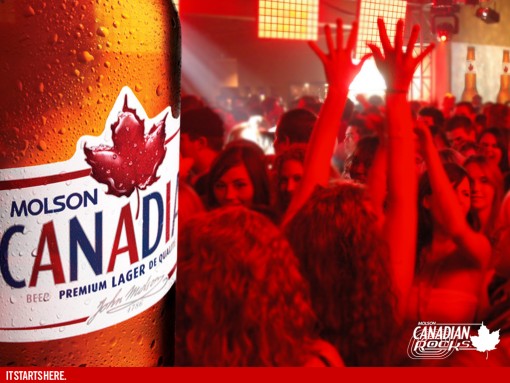 Ken Barnes over at USA Today has compiled a very intersting list of his favourite Canadian acts. You can check out the whole thing with annotations (which I edited out) over here. If this guy's not an ex-pat, I'll be a hoser, eh (yes, I know that makes no sense).
Best Canadian Acts (In Alphabetical Order)
A Passing Fancy (60s)
Bryan Adams (70s onward, if you count Sweeney Todd, which also brings up its other famous alumnus, Nick Gilder)
April Wine (70s/80s)
Arcade Fire (00s)
Jann Arden (90s onward)
Bachman-Turner Overdrive (70s)
Band/Hawks (mostly Canadian) (60s onward)
Barenaked Ladies/Steven Page (90s onward)
Barney Bentall (80s)
Art Bergmann (80s, plus Shmorgs and other bands)
Terry Black (60s)
Blue Rodeo (80s onward)
Bum (90s)
Malcolm Burn (80s)
Andrew Cash/Cash Brothers (80s onward)
Les Chanceliers (60s)
Chilliwack (70s)
Terri Clark (90s/00s)
Bruce Cockburn (70s onward)
Leonard Cohen (60s onward)
View all the rest after the jump.

Collectors (60s)
Patricia Conroy (80s onward)
Cowboy Junkies (80s onward)
Crash Test Dummies (90s)
Crash Vegas (80s)
Burton Cummings (70s onward)
Dears (00s)
Deverons (60s)
Fefe Dobson (00s)
Doug & The Slugs (80s)
Annette Ducharme (80s)
Kathleen Edwards (00s)
Esquires (60s)
Evaporators (90s onward)
Feist (00s)
Frozen Ghost (80s)
Nelly Furtado (00s)
Grapes of Wrath (80s/90s)
Great Big Sea (90s onward)
Gruesomes (80s)
Guess Who (60s/70s)
Sarah Harmer (00s)
Haunted (60s)
High Dials (90s/00s)
Honeymoon Suite (80s)
Les Hou-Lops (60s)
Ian & Sylvia (60s onward)
Terry Jacks (70s)
Sherry Kean (80s)
Andy Kim (60s/70s)
King-Beezz (60s)
Chantal Kreviasuk (90s/00s)
K.D. Lang (80s onward)
Avril Lavigne (00s)
Gordon Lightfoot (60s onward)
Luba (80s)
Luke & The Apostles (60s)
Les Lutins (60s)
Martha & The Muffins (80s)
Kate & Anna McGarrigle (70s/80s)
Loreena McKennitt (90s onward)
Sarah McLachlan (90s onward)
Minutes From Downtown (80s)
Joni Mitchell (60s onward)
Mae Moore (80s/90s)
Alanis Morissette (90s onward)
Mynah Birds (60s)
New Pornographers (sort of) (00s)
Don Norman and the Other Four (60s)
Northern Pikes (80s)
Odds (80s)
Michel Pagliaro (70s)
Parachute Club (80s)
Paupers (60s)
Payolas (80s)
Platinum Blonde (80s)
Pointed Sticks (70s)
Poppy Family (70s)
Purple Toads (80s)
Pursuit of Happiness (80s)
Red Rider/Tom Cochrane/Cochrane (70s onward)
Sam Roberts (00s)
Sadies (90s/00s)
Buffy Ste. Marie (60s onward)
Ron Sexsmith (90s onward)
The Shays (60s)
Jane Siberry (80s onward)
Smugglers (90s)
Sparrow (60s)
Spoons (80s)
Staccatos (60s)
Skye Sweetnam (00s)
R. Dean Taylor (60s)
Tegan & Sara (00s, mostly)
Three's a Crowd (60s)
Thundermug (70s)
Toronto (80s)
Tragically Hip (90s onward)
Shania Twain (90s onward)
Ugly Ducklings (60s)
Neil Young (60s onward)