Tegan and Sara at Southpaw (08/02/07)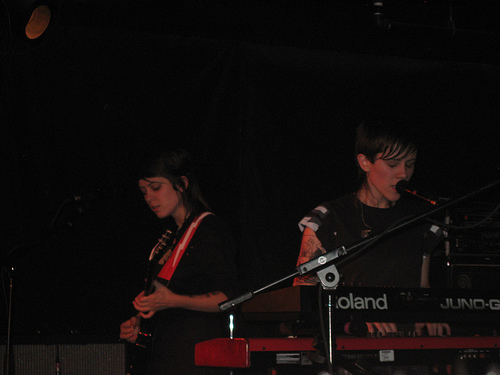 Canadian pop songstresses Tegan and Sara are keeping The Con juggernaut going with another big tour in 2008. They'll be playing there biggest NYC venue yet as they make their way to The Bowery's cavernous Terminal 5 venue on May 12, 2008. Tickets go on sale on Friday, January 18, at noon.
All T&S tour dates after the jump.

Tegan and Sara Tour Dates
22-Feb-2008 Concorde Brighton
23-Feb-2008 Met Leeds
24-Feb-2008 Trent University Nottingham
25-Feb-2008 Wulfrun Hall Wolverhampton
27-Feb-2008 The Button Factory – SOLD OUT Dublin 2, Dublin
28-Feb-2008 Limelight Belfast
29-Feb-2008 Queen Margaret Union **new venue** Glasgow, Scotland
01-Mar-2008 Academy 2 Manchester
02-Mar-2008 The Point Cardiff
05-Mar-2008 Koko London
07-Mar-2008 Backstage Munich
08-Mar-2008 Karlstorbahnhof Heidelberg
09-Mar-2008 Fabrik Hamburg
10-Mar-2008 Gloria Cologne
12-Mar-2008 Lille Vega Copenhagen
13-Mar-2008 KB Malmö
14-Mar-2008 Nalen Stockholm
15-Mar-2008 Stenhammarsalen Gothenberg
17-Mar-2008 Postbahnhof Berlin
18-Mar-2008 Rotonde Botanique Brussels
19-Mar-2008 Le Trabendo **new venue** Paris
20-Mar-2008 Melkweg Amsterdam
17-Apr-2008 Elsinore Theatre Salem, Oregon
19-Apr-2008 Kate Buchanan Room at HSU Arcata, California
21-Apr-2008 Freeborn Hall at UC Davis Davis, California
22-Apr-2008 The Rio Theatre Santa Cruz, California
28-Apr-2008 The Marquee Phoenix, Arizona
29-Apr-2008 The Sunshine Theatre Albuquerque, New Mexico
30-Apr-2008 The Belly Up Aspen, Colorado
02-May-2008 Cains Ballroom Tulsa, Oklahoma
04-May-2008 The Pageant St Louis, Missouri
06-May-2008 The Barrymore Theatre Madison, Wisconsin
07-May-2008 The Pabst Theatre Milwaukee, Wisconsin
08-May-2008 The Egyptian Indianapolis, Indiana
09-May-2008 Bogart's Cincinnati, Ohio
10-May-2008 The Palace Theatre Pittsburgh, Pennsylvania
12-May-2008 Terminal 5 New York, New York