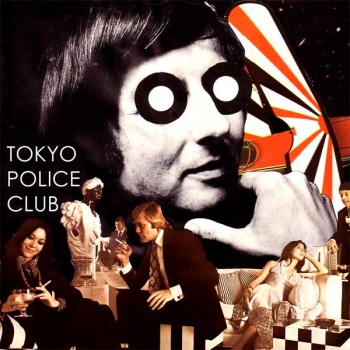 From a recent TPC MySpace bulletin (01/17/08):
Hey!

We just wanted to let you know that we have ONE day left of mixing our new record. It's very exciting stuff! Next week we'll have some more info about the album & more tour dates to announce.

In the meantime, we have tour dates posted, you can check them out & get tickets HERE! If your city isn't listed, don't fret: we'll be posting some new dates soon!

So keep an eye out for more exciting news next week!

cheers!
TPC
Ontario's Tokyo Police Club are playing the Bowery Ballroom and The Music Hall of Williamsburg on April 20 and 21, 2008 respectively (tickets on Sale Fri at noon). All TPC tour dates after the jump.

Tokyo Police Club Tour Dates
Jan. 23, 2008 Connexion – Oakville, ONT
Jan. 24, 2008 The Wall – North Bay, ONT
Jan. 25, 2008 Quarters – Hamilton, ONT
Jan. 26, 2008 Nathan Phillips Square – Toronto, ONT
Jan. 30, 2008 The Ale House – Kingston, ONT
Feb. 1, 2008 Forwell Hall – London, ONT
Feb. 2, 2008 Sleeman Centre – Guelph, ONT
Mar. 18, 2008 Call The Office – London, ONT
Mar. 19, 2008 Birdy's Bar and Grill – Indianapolis, IN
Mar. 20, 2008 Jackpot Saloon – Lawrence, KS
Mar. 22, 2008 Kilby Court – Salt Lake City, UT
Mar. 24, 2008 The Independent – San Francisco, CA
Mar. 25, 2008 The Glass House – Pomona, CA
Mar. 26, 2008 Troubadour – Hollywood, CA
Mar. 28, 2008 Soma – San Diego, CA
Mar. 29, 2008 The Clubhouse – Tempe, AZ
Mar. 31, 2008 Meridian Red Room – Houston, TX
Apr. 1, 2008 House of Blues – Dallas, TX
Apr. 3, 2008 Club Downunder – Tallahassee, FL
Apr. 4, 2008 Studio A – Miami, FL
Apr. 5, 2008 Backbooth – Orlando, FL
Apr. 7, 2008 40 Watt Club – Orlando, FL
Apr. 8, 2008 Exit/In – Nashville, TN
Apr. 9, 2008 The Spot – Cleveland, OH
Apr. 18, 2008 Barrymore's Music Hall – Ottawa, ON
Apr. 19, 2008 Cabaret du Musee Juste Pour Rire – Montreal, QC
Apr. 20, 2008 Bowery Ballroom – New York, NY
Apr. 21, 2008 Music Hall of Williamsburg – Brooklyn, NY
Apr. 24, 2008 Paradise Rock Club – Boston, MA
Apr. 26, 2008 Pearl Street Night Club – Northampton, MA
Apr. 28, 2008 First Unitarian Church – Philadelphia, PA
Apr. 29, 2008 Black Cat – Washington, DC
Apr. 30, 2008 Big Orbit's Soundlab – Buffalo, NY