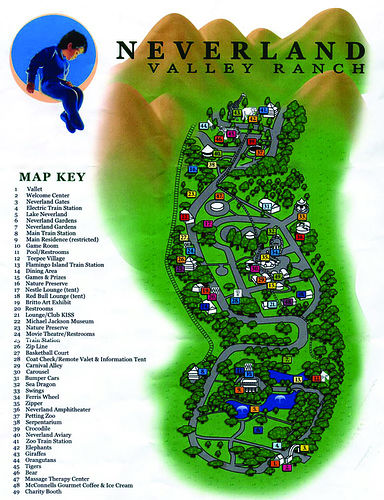 Photo: Stretchdog
It seems that Michael Jackson has managed to use some nifty legal maneuvering to save his abandoned Neverland Ranch from the auction block.
Michael Jackson has made a last-minute deal to refinance his Neverland Ranch, his lawyer has told the Associated Press, avoiding a public auction of the property that was scheduled for March 19.

Jackson's attorney said the pop star worked out a "confidential" agreement with Fortress Investment Group allowing him to retain ownership of the property in Los Olivos, Calif. It was set to be auctioned after Jackson went into default on the $24.5 million he owes on the 2,500-acre spread. [Washington Post]
Aretha Franklin, on the other hand, may lose her $700,000 Detroit mansion to the taxman over the price of a nice chianti.
Aretha Franklin could lose her home to tax collectors. The singer says an attorney's mistake caused her $700,000 mansion in Detroit to slip into foreclosure over $445 in 2005 taxes and late fees.

The Detroit Free Press reports Thursday the Queen of Soul owes a total of $19,192 in back taxes on the property through 2007. She says she plans to pay up and reclaim it by a March 31 deadline.

A spokesman for the Wayne County treasurer's office says the foreclosure judgment for $445 was entered earlier this month. [AP]
Really, I can buy a mansion in Detroit for $700,000? Honestly, a friggin' mansion?