Elton John and Elvis Costello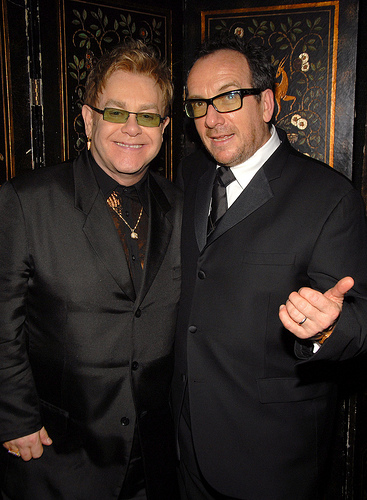 Photo: PR Newswire
I wonder if this means Sir Elton forgives Elvis for the Vanity Fair article.
Two of the most respected musicians in the world will collaborate on an extraordinary new television series.

"Spectacle: Elvis Costello with…" will be hosted by its namesake and produced in conjunction with Sir Elton John's Rocket Pictures. Elton John will be one of the program's Executive Producers.

The series will air beginning later this year, on CTV in Canada, Channel 4 in the UK and Sundance Channel in the US. FremantleMedia Enterprises, will handle sales of the show to the rest of the world.

Conceived to provide a forum for in-depth discussion and performance with the most interesting and influential artists and personalities of our time, the show fuses the best of talk and music television.

"Spectacle: Elvis Costello with…" promises to be an unpredictable and unprecedented television experience. The series of 13 one-hour programs will feature everything from intimate one-on-ones with legendary performers and notable newcomers to thematic panel discussions, with a variety of performance elements including unique collaborations, acoustic and impromptu "illustrative" demonstrations of the creative process, and some original interpretations of others' songs by Costello.

[Press Release Continued After The Jump]

The program's eclecticism and depth reflect its uniquely qualified host. Elvis Costello is a Rock and Roll Hall of Fame inductee; a Grammy and Ivor Novello Award-winning (and Oscar-nominated) songwriter and performer comfortable in almost every genre imaginable; a musicologist of formidable breadth and knowledge; a contributor to Vanity Fair Magazine; and a noted wit whose stint as guest host on The Late Show with David Letterman won rave reviews.

Explaining his approach to the program, Elvis said, "I'm not interested in extracting some dark secret. I'd rather hear about a bright secret, a deep love or a curiosity that might be otherwise obscured by fame. This is a wonderful opportunity to talk in complete thoughts about music, movies, art or even vaudeville, then frame it with unique and illustrative performances."

Executive Producer Sir Elton John added, "Elvis Costello is the foremost expert on popular music. I thought it would be sensational to use his knowledge and intelligence to explore the artistry of musicians and other fascinating people involved in making great music, as well as true music aficionados."

Consistent with Sir Elton John's long-standing commitment to philanthropy and music, the series producers have struck an exciting association with the (Product) RED (http://www.joinred.com) campaign created to raise awareness and money for the Global Fund (http://www.theglobalfund.org) to fight AIDS in Africa. Select program excerpts and performances will be distributed in a variety of new media and conventional platforms, with a portion of the profits directed to the Global Fund.

"The concept of Elvis Costello hosting a television show was completely irresistible to Sundance Channel," commented Larry Aidem, President & CEO. "Our viewers are enthusiastic fans of music and love stimulating and provocative talk, so it's a fabulous fit."

"The extraordinarily versatile Elvis Costello and the legendary Elton John have joined forces to bring viewers an unprecedented window into the world of music," said Susanne Boyce, President, Creative, Content and Channels, CTV Inc. "Spectacle will be spectacular — providing a platform for the most acclaimed artists of our time to discuss and demonstrate their craft in a unique setting."

Speaking of the distribution agreement, FremantleMedia Enterprises CEO David Ellender said, "Music programming is an important part of the FME portfolio and the opportunity to distribute 'Spectacle: Elvis Costello with…' is very exciting. Costello is a legendary performer whose experience in the music and entertainment industry will not only attract a range of internationally renowned iconic performers, but also offer them the unique opportunity to join a 'discussion between equals.' This is a formula which is sure to appeal to audiences around the world."

Neil McCallum, Head Of Music for Channel 4, said, "This is a phenomenal project involving the world's leading music artists, and we're delighted that Channel 4 viewers will be able to witness first hand a compelling mix of conversation and unique performances, all brought together by the esteemed Elvis Costello."

"Spectacle: Elvis Costello with…" is a co-production of Rocket Pictures, SpyBox Pictures, Prospero Pictures and reinvention entertainment. Executive Producers are Sir Elton John, Elvis Costello, David Furnish, Steve Hamilton- Shaw, Jordan Jacobs, Martin Katz and Stephen Warden. Co-Executive Producer is Alex Coletti.