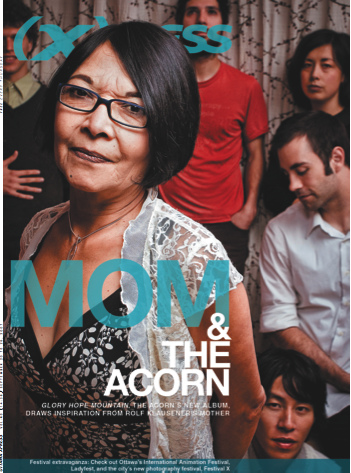 Ottawa's favourite sons (The Acorn) return to NYC tomorrow night (May 3) for four dates spread out over two boroughs. My advice, catch these guys while they are still playing small rooms— mark my words, it won't be long before these kids make the jump to the big time).
Glory Hope Mountain is dedicated to the life story of the singer Rolf's mother Gloria and her difficult immigration from Honduras to Canada in the 70's. Rolf conducted a series of interviews with his mother over six months and researched Smithsonian recordings of 50's Honduran/West Indies folk music for the making of this album.
The Acorn 2008 Late Spring Tour Dates
05/02 – Khyber – Philadelphia, PA
05/03 – Union Hall w/Ola Podrida – Brooklyn, NY
05/04 – Sound Fix Records (6pm) – Brooklyn, NY
05/05 – Pianos – New York, NY
05/06 – Mercury Lounge w/Cave Singers, Love As Laughter – New York, NY
05/07 – Great Scott – Boston, MA
Watch the video for "The Flood Pt. 1" after the break.

The Acorn – The Flood Pt. 1