The Acorn at Union Hall (05/03/08)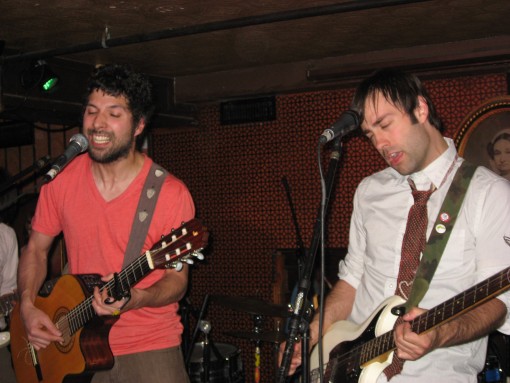 Since The Acorn play their final New York date tonight (05/06) at The Mercury Lounge I thought I would post these pics from their Saturday night gig Union Hall before they leave town. What can I say about the show? Let me be short and sweet: I was blown away all over again by these guys. For a more nuanced take on their performance, (which I also agree with), check out what Jonny Leather had to say below:
The Ottawa six-piece are one of those bands whose name will certainly become more and more known in the indie music world over the course of the next year. Their 2007 release, "Glory Hope Mountain" has been another testament to the high level of quality music coming out of Canada. "Glory Hope Mountain" is a concept album based around the story of the lead singer Rolf Klausener's mother. At times the songs are deeply emotional and natural indie folk, but there is also a nice handful of more upbeat tracks that help give the album an uplifting vibe.

On Saturday night, The Acorn was able to prove that the magic goes beyond recorded form as they filled the songs with extra life, during an exceptionally tight performance. Klausener's voice was just as soulful, if not more so, and the duel percussion worked perfectly. [JonnyLeather.com]
Check out my full flickr set from the show here.