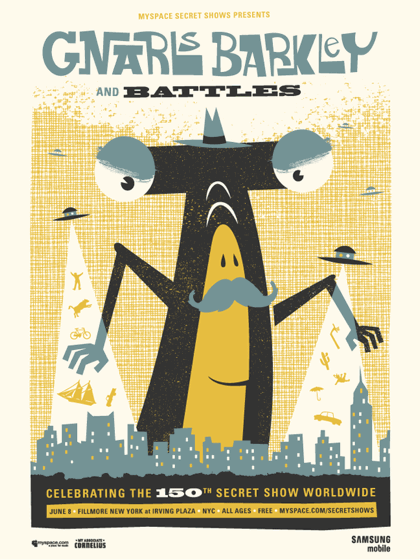 MySpace 150th Secret Show
GNARLS BARKLEY with BATTLES and JANELLE MONÁE
FREE! ALL AGES!
Sunday, June 8, 2008
Doors @ 7:00 PM
Fillmore New York at Irving Plaza
17 Irving Plaza
New York, NY
PLEASE NOTE: Admission is on a first come, first served basis. So get there early and stay in line.
BUT YOU CAN INSURE YOURSELF A SPOT AT THE FRONT OF THE LINE
If you are one of the first 25 MySpace users to show up at the Fillmore New York at Irving Plaza this Sunday with the new Samsung Glyde phone, then you can "glyde to the front of the line" and ensure a spot at this historic event.

The way it works is simple: Show up at the venue before the doors open at 7:00 PM and, when someone from MySpace asks if you have brought the new Samsung Glyde with you, promptly show it to them. The first 25 people to do so will be granted entry right there on the spot.
Gnarls Barley are also playing David Letterman on Monday, June 9 and the SoHo Apple Store on Tuesday, June 10.
All upcoming Gnarls Barkley tour dates after the jump.
Gnarls Barkley 2008 Tour Dates
Jun 08 2008 150TH MySpace Secret Show Irving Plaza New York, New York
Jun 09 2008 David Letterman Show New York, New York
Jun 10 2008 SoHo Apple Store New York, New York
Jun 12 2008 229 London, UK
Jun 13 2008 Bush Hall London, UK
Jun 14 2008 Union Chapel London, UK
Jun 17 2008 Paris Paris Paris, France
Jun 18 2008 Le Milliardaire Paris, France
Jun 21 2008 Mandalay Bay Resort & Casino Las Vegas, Nevada
Jun 28 2008 SoCo Music Experience Denver, Colorado
Jul 01 2008 Nalen Stockhlom
Jul 02 2008 Quart Festival Kristiansand, Norway
Jul 04 2008 Roskilde Festival Roskilde, Denmark
Jul 05 2008 Rock Werchter Brussels
Jul 06 2008 Eurockness Festival Belfort
Jul 08 2008 Astoria 2 London
Jul 10 2008 Montreaux Jazz Festival Montreaux, Switzerland
Jul 13 2008 North Sea Jazz Festival Rotterdam
Jul 14 2008 Gloria Konzert Cologne
Jul 17 2008 Arezzo Wave Festival Arezzo
Jul 19 2008 Benicassim Festival Benicásim
Jul 20 2008 Sala Heineken Madrid
Jul 27 2008 The Hollywood Bowl Los Angeles, California
Aug 03 2008 Lollapalooza Chicago, Illinois
Aug 09 2008 South Side Works Pittsburgh, Pennsylvania
Sep 28 2008 Austin City Limits Austin, Texas