Come out to After the Jump Fest on North 6th Street and at the Music Hall of Williamsburg on Saturday, June 21!
Free t-shirts, Photographs and Giveaways all day!
Plus Raffles to win a pair of tickets to Virgin Mobile Festival, VIP passes to Siren Festival, CMJ Badges and a new Zune with a free 3 month download subscription!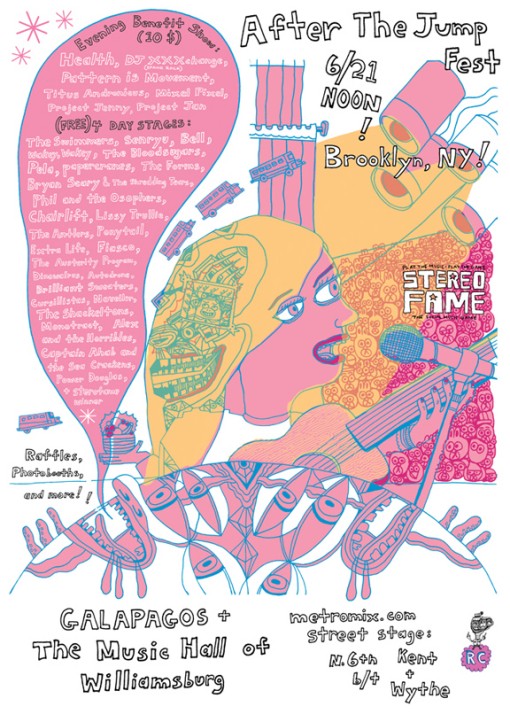 Flyer design by Rob Corradetti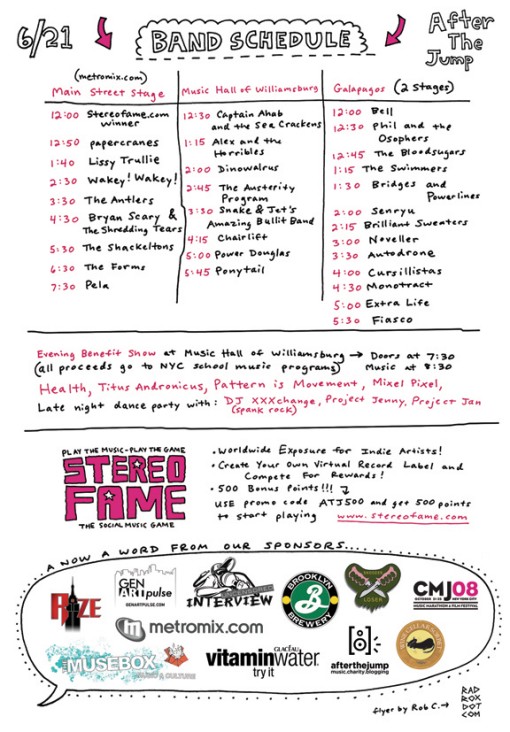 Metromix.com, your online guide for arts and entertainment in New York, will be kicking it all day long at After the Jump Fest 2008, with their very own Street Stage right in the middle of N. 6th st. in downtown Williamsburg. They will also be there taking pictures of the fabulous crowd to post in a special photo gallery.
Make sure and come out to see Pela, Ponytail, Bryan Scary and the Shredding Tears, The Forms and over 30 more free bands starting at noon!
And hey, let us know you are coming! RSVP here ny@metromix.com for your chance to win a free Ipod Shuffle courtesy of Metromix.com.
After the Jump would like to thank its sponsors for helping make this year's festival possible:
Metromix.com
Stereofame.com
Snoozer Loser
Gen Art Pulse
Brooklyn Brewery
Vitamin Water
Snoozer Loser
Uncensored Interview
Blog Fresh Radio
CMJ Music Marathon
The Musebox
Rize
After The Jump is Organized By:
themusicslut . batteringroom . disconap . earfarm . ryspace . irockiroll . merryswankster . softcommunication . musicisart . sitdownstandup . watercoolergossip . bumpershine . themodernage . productshopnyc . subinev . punkphoto . poptartssucktoasted . stereoactivenyc . jinners