Okay, so I'm not really a big Jason Mraz fan or anything, but the prospect of seeing Damien Rice's former muse, Lisa Hannigan, is very intriguing. Perhaps she'll slip in a little NYC solo show somewhere between Scranton and Montreal (are you reading this Skippy?).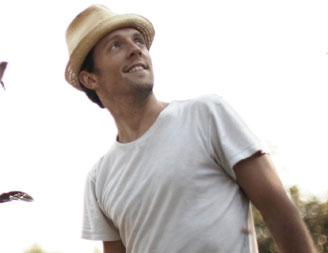 Jason Mraz with Lisa Hannigan
Radio City Music Hall
Friday, October 10
Buy Tickets
Presale Starts: Friday, August 8 @ 10AM
Presale Ends: Friday, August 8 @ 10PM
Password: HEMRAZ
All Jason Mraz tour dates after the jump.

Jason Mraz 2008 North American Tour Dates
08 Oct 2008 Scranton Cultural Center Scranton, Pennsylvania
10 Oct 2008 Radio City Music Hall New York, New York
13 Oct 2008 Metropolis Montreal, Quebec
15 Oct 2008 Massey Hall Toronto, Ontario
16 Oct 2008 Tower Theater Philadelphia, Pennsylvania
17 Oct 2008 Orpheum Theater **SOLD OUT** Boston, Massachusetts
20 Oct 2008 DAR Constitutional Hall Washington,, Washington DC
23 Oct 2008 Nokia Theater Dallas, Texas
24 Oct 2008 Stubbs Outdoor Austin, Texas
25 Oct 2008 Verizon Wireless Theater Houston, Texas
27 Oct 2008 The Fillmore Denver, Colorado
28 Oct 2008 E Center (theater set-up) Salt Lake City, Utah
31 Oct 2008 SDSU OAT San Diego, California
01 Nov 2008 Greek Theatre Los Angles, California
02 Nov 2008 Greek Theatre Berkeley, California
03 Nov 2008 Freeborn Hall Sacramento, California
05 Nov 2008 Knitting Factory Boise, Idaho
07 Nov 2008 INB Opera House Spokane, Washington
08 Nov 2008 Center for Arts Vancouver, British Columbia
09 Nov 2008 Paramount Seattle, Washington
12 Nov 2008 Arlene Schnitzer Concert Hall Portland, Oregon
15 Nov 2008 The Pearl Las Vegas, Nevada
16 Nov 2008 Dodge Theater Phoenix, Arizona
19 Nov 2008 Myth **SOLD OUT** Minneapolis, Minnesota
21 Nov 2008 Eagles Ballroom Milwaukee, Wisconsin
22 Nov 2008 Aragon Ballroom Chicago, Illinois
23 Nov 2008 Fabulous Fox Theater St, Louis, Missouri
25 Nov 2008 Lakewood Auditorium Cleveland, Ohio
26 Nov 2008 The National Richmond, Virginia
28 Nov 2008 The National Richmond, Virginia
29 Nov 2008 Tabernacle Atlanta, Georgia
30 Nov 2008 Ryman Auditorium Nashville, Tennessee
02 Dec 2008 Florida Theatre Jacksonsville, Florida
03 Dec 2008 Hard Rock Live Orlando Orlando, Florida
04 Dec 2008 Ruth Eckard Hall Tampa Bay, Florida
05 Dec 2008 Fillmore Miami Beach @ Jackie Gleason Theatre Miami, Florida