Calexico – Carried To Dust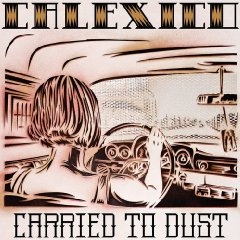 Calexico has a new record coming out September 9 (which I think is pretty darn impressive by the way) called Carried to Dust. As you might expect, they're just about to hit the road, and they've got two local shows planned, one at the tiny Other Music on September 23 and the other at the much larger Webster Hall on September 24. Tickets for the Webster Hall show are on sale now, all remaining November dates will be on sale this Friday, September 12.
All Calexico tour dates after the jump.
Calexico 2008 Tour Dates
Sep 10 2008 Tripod Dublin
Sep 11 2008 Queens Hall Edinburgh
Sep 12 2008 Academy Oxford
Sep 13 2008 Leadmill Sheffield
Sep 14 2008 End of the Road Festival Dorset
Sep 20 2008 Rialto Theatre Tucson, AZ
Sep 23 Other Music New York, NY
Sep 24 2008 Webster Hall New York, NY #
Sep 25 2008 Chicago World Music Festival 2008 with Mariachi Luz de Luna and Salvador Duran *FREE* Chicago, IL
Sep 26 2008 The Moore Theatre Seattle, WA
Sep 27 2008 Crystal Ballroom Portland, OR
Sep 28 2008 The Fillmore San Francisco, CA
Sep 29 2008 Henry Fonda Theatre Los Angeles, CA
Oct 09 2008 Columbiahalle Berlin
Oct 10 2008 E- Werk Köln
Oct 11 2008 Forum London
Oct 13 2008 Ancienne Belgique Brussells
Oct 14 2008 La Cigale Paris
Oct 15 2008 Paradiso Amsterdam
Oct 16 2008 Muffathalle München
Oct 17 2008 Volkshaus Zürich
Oct 18 2008 Rolling Stone Milan
Oct 19 2008 Mousonturm Frankfurt
Oct 21 2008 Gasometer Vienna
Oct 22 2008 Alter Schlachthof Dresden
Oct 23 2008 Fabrik Hamburg
Oct 24 2008 Vega Copenhagen
Oct 25 2008 Stockholm Stockholm
Oct 26 2008 Rockefeller Oslo
Nov 07 2008 Antone's 2008 Austin, TX*
Nov 08 2008 Granada Theater 2008 Dallas, TX*
Nov 09 2008 Duck Room 2008 St. Louis, MO*
Nov 10 2008 Mercy Lounge 2008 Nashville, TN*
Nov 12 2008 Cat's Cradle 2008 Carrboro, NC*
Nov 13 2008 9:30 Club 2008 Washington, DC*
Nov 14 2008 Theatre of Living Arts 2008 Philadelphia, PA*
Nov 15 2008 The Tarrytown Music Hall 2008 Tarrytown, NY*
Nov 16 2008 Somerville Theater 2008 Somerville, MA*
Nov 17 2008 Le National 2008 Montreal, QC*
Nov 18 2008 Phoenix Concert Theatre 2008 Toronto, ON*
Nov 20 2008 The Crofoot Ballroom 2008 Pontiac, MI*
Nov 21 2008 Metro 2008 Chicago, IL*
Nov 22 2008 Fine Line Music Cafe 2008 Minneapolis, MN*
Nov 23 2008 Slowdown 2008 Omaha, NE*
Nov 24 2008 Gothic Theatre 2008 Denver, CO*
Nov 25 2008 Sunshine Theater 2008 Albuquerque, NM*
# w/ Oakley Hall
* w/ Bowerbirds