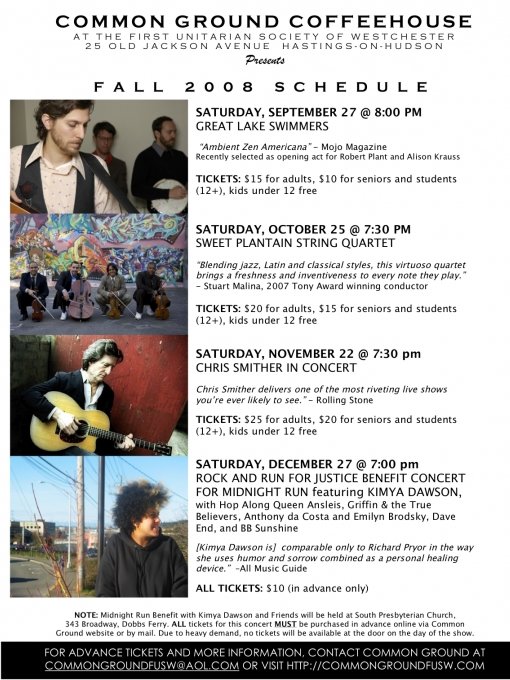 As I mentioned a while ago, one of my favorite Canadian bands, Great Lake Swimmers, are about to head out on tour and aside from the usual stops, (The Mercury Lounge and Union Hall), they'll be playing a gig at the not-for-profit Common Ground Coffeehouse in Hastings-on-Hudson, NY. The Great Lake Swimmers show at Common Ground is the first in a season of concerts that also includes: Chris Smither, Sloan Wainwright, Nerissa and Katyrna Nields, The Woes and Kimya Dawson, just to name a few. So if you live closer to Westchester than you do to Brooklyn you might want to check out Tony Dekker and his band at the Common Ground this Saturday night (and if you do, let me know how it goes ;-).
More information on the Common Ground Coffeehouse, their mission and their upcoming season after the jump.
On Saturday, September 27, 2008 at 7:30, Common Ground opens its seventh year with the haunting, heartfelt folk-pop of Ontario, Canada's Great Lake Swimmers. The group was recently chosen by Led Zeppelin's Robert Plant to open one of the shows on his current tour with Allison Krauss.

On October 25th, we welcome Sweet Plantain, a string quartet from the Bronx that specializes in genre-blurring, contemporary works by Latin American composers as well as original compositions and arrangements. Its unique style fuses Latin, classical, jazz, and improvisational forms.

November 22nd brings folk-blues songwriter Chris Smither, who, according to Rolling Stone, "delivers one of the most riveting live shows you're ever likely to see." While he is a fine interpreter of musical heroes like Lightnin' Hopkins and Mississippi John Hurt and contemporaries like Bob Dylan, Smither is best known as one of the foremost songwriters of his generation. His work draws deeply from traditional folk and blues as well as modern poetry and philosophy. Bonnie Raitt, Emmylou Harris, Diana Krall, and many others have all covered his music.

On December 27th, Common Ground holds its annual benefit concert for Midnight Run, the Dobbs Ferry organization that serves NYC's homeless men and women. Headlining this year's concert will be singer-songwriter Kimya Dawson, a native of Bedford Hills, NY. Dawson's music was heavily featured in the 2008 Academy Award winning film Juno. Joining her will be several other Westchester-raised young artists "" Anthony da Costa, Emilyn Brodsky and Griffin & the True Believers. Also appearing will be Brooklyn-based Dave End, New Jersey's BB Sunshine and Pennsylvania's Hop Along, Queen Ansleis.

On January 24th, 2009 Nerissa and Katryna Nields. Nerissa and Katryna have been the darlings of the coffeehouse/festival scene since 1991, with tunes ranging from off-the-hook idiosyncratic to kicking to heartbreaking. Sister Hollar, their latest release, is a "roots album," but with a difference. Rather than simply reinterpret or re-record the music what brung "˜em, the sisters have retooled, assimilated and flat out burgled the music they grew up with to create something new. The result is a delightful oxymoron of songs simultaneously familiar and surprising.

February 28th marks the return to Common Ground of the Sloan Wainwright Band. Sloan's last appearance at Common Ground was a joyous, full-house celebration. Sloan comes from one of the first families of folk, as her family tree includes older brother Loudon Wainwright III, nephew Rufus Wainwright and nieces Martha Wainwright and Lucy Wainwright Roche. Joining Sloan will be yet another talented member of the family, her son, Sam McTavey.

On March 28th, we'll host the Grateful Dead Revival Show, a celebration of the music of the Grateful Dead, that will feature both acoustic and electric sets, performed by guitarist Robert Politzer and a stellar band.

April 25th brings New York City's The Woes. The music of The Woes is a stew of Delta blues and early Country, of bluegrass and New Orleans marching band music, dished out by banjo, harmonica, accordion, French Horn and organ. The five piece hails from New York City.

May (TENTATIVE: exact dates and artists TBA) Falcon Ridge Folk Festival Preview. For the past five years, Common Ground has hosted the annual Falcon Ridge Folk Festival Preview Tour, which highlights the emerging artists selected by the festival audience as "Most Wanted" for a return the following year. While the exact date for annual May return of the Falcon Ridge tour to Common Ground is not yet confirmed, be sure to check our website for updates.

We end the regular Common Ground season on June 6th with the a celebratory joint show featuring a set of po standards with vocalist Ralph Gunderman, followed by sets by Common Ground's two "house bands," the First U Rock & Soul Revue and the Great American Song (GAS) Company. Rock and Soul specializes in the Memphis and New Orleans soul sound, while the GAS Company showcases some of the other great songwriters of the 1960s and 70s, like Joni Mitchell, Robbie Robertson, Crosby, Stills Nash and Young and others.

Common Ground is located at the First Unitarian Society of Westchester in Hastings-on-Hudson. During its first six years of operation, Common Ground has raised nearly $17,000 for local organizations, national and international organizations. All profits from Common Ground concerts support local, national, and international charities and nonprofit social justice organizations working to build just, sustainable communities and economics, as well as assisting communities recovering from natural disasters.