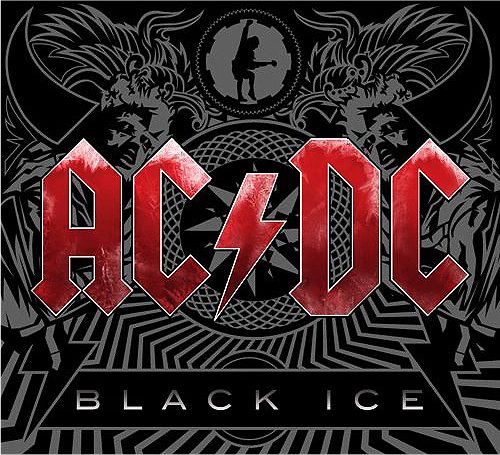 Not only does Wal-Mart have the exclusive distribution rights to AC/DC's newest record, Black Ice, but now they're also the only retailer where you can buy the brand new AC/DC Live: Rock Band Track Pack (you hear that Matt?).
The new album drops on October 20 and the boys from down under will be bringing their high voltage touring act to MSG on November 12 and 13 (buy tickets). All AC/DC tour dates and AC/DC LIVE:Rock Band Track Pack track listing after the jump.
As an aside, their MySpace page has a listing for New York, NY on October 20, the day the new album comes out. Now this of course, could mean nothing, or it could mean something (AC/DC played a special show for fans at the Roseland in March 2003).
AC/DC LIVE: Rock Band® Track Packâ"¢ will feature the master recordings from the best of the band's live performances specially remixed for Rock Band by Mike Fraser, who mixed the band's forthcoming album, Black Ice, at the Warehouse Studio in Vancouver, BC. Players will be able rock-out to 18 of AC/DC's biggest hits, allowing for more than 99 minutes of game play for each instrument. Included are:

"Thunderstruck"
"Shoot to Thrill"
"Back in Black"
"Hell Ain't a Bad Place to Be"
"Heatseeker"
"Fire Your Guns"
"Jailbreak"
"The Jack"
"Dirty Deeds Done Dirt Cheap"
"Moneytalks"
"Hells Bells"
"High Voltage"
"Whole Lotta Rosie"
"You Shook Me All Night Long"
"T.N.T."
"Let There Be Rock"
"Highway To Hell"
"For Those About to Rock (We Salute You)"
AC/DC Tour 2008-2009 Dates
Oct 28 2008 Wachovia Arena Wilkes-Barre, Pennsylvania
Oct 30 2008 Allstate Arena Chicago, Illinois
Nov 01 2008 Allstate Arena Chicago, Illinois
Nov 03 2008 Conseco Fieldhouse Indianapolis, Indiana
Nov 05 2008 Palace of Auburn Hills Detroit, Michigan
Nov 07 2008 Rogers Centre Toronto, Ontario
Nov 09 2008 TD Banknorth Garden Boston, Massachusetts
Nov 12 2008 Madison Square Garden New York, New York
Nov 13 2008 Madison Square Garden New York, New York
Nov 15 2008 Verizon Center Washington DC, Washington DC
Nov 17 2008 Wachovia Center Philadelphia, Pennsylvania
Nov 19 2008 IZOD Center East Rutherford, New Jersey
Nov 21 2008 Schottenstein Center Columbus, Ohio
Nov 23 2008 Xcel Energy Center Minneapolis, Minnesota
Nov 25 2008 Pepsi Center Denver, Colorado
Nov 28 2008 General Motors Place Vancouver, British Columbia
Nov 29 2008 Key Arena Seattle, Washington
Nov 30 2008 Tacoma Dome Tacoma, Washington
Dec 02 2008 ORACLE Arena Oakland, California
Dec 04 2008 ORACLE Arena Oakland, California
Dec 06 2008 The Forum Los Angeles, California
Dec 08 2008 The Forum Los Angeles, California
Dec 10 2008 US Airways Center Phoenix, Arizona
Dec 12 2008 AT&T Center San Antonio, Texas
Dec 14 2008 Toyota Center Houston, Texas
Dec 16 2008 Philips Arena Atlanta, Georgia
Dec 18 2008 Time Warner Cable Arena Charlotte, North Carolina
Dec 20 2008 Bank Atlantic Center Ft. Lauderdale, Florida
Dec 21 2008 St. Pete Times Forum Tampa Bay, Florida
Jan 05 2009 Quicken Loans Arena Cleveland, Ohio
Jan 07 2009 Mellon Arena Pittsburgh, Pennsylvania
Jan 09 2009 Rogers Centre Toronto, Ontario
Jan 11 2009 U.S. Bank Arena Cincinnati, Ohio
Jan 13 2009 Scottrade Center St. Louis, Missouri
Jan 15 2009 Qwest Center Omaha, Nebraska
Jan 17 2009 Fargodome Fargo, North Dakota
Jan 19 2009 Xcel Energy Center Minneapolis, Minnesota
Jan 21 2009 Sprint Center Kansas City, Missouri
Jan 23 2009 American Airlines Center Dallas, Texas
Jan 26 2009 BOK Center Tulsa, Oklahoma
Jan 28 2009 ALLTELL Arena Little Rock, Arkansas
Jan 30 2009 FedEx Forum Memphis, Tennessee
Jan 31 2009 Sommet Center Nashville, Tennessee