Department of Eagles at The Bell House (10/06/08)


Photos: Tim Griffin
Last night, amidst much build-up and anticipation, 3/4 of Grizzly Bear, otherwise known Department of Eagles played their first ever "proper" live show at The Bell House in Gowanus, Brooklyn. By most accounts I've heard so far, it was a pretty enjoyable show and packed with the indie music elite. Notable onlookers included Sondre Lerche, members The National, Fleet Foxes and Beirut's Zach Condon. Since I was in another borough watching the always excellent Andrew Bird debut some new material, I cribbed a few lines from Benjamin Gold of Limewire:
Last night was their first real show. They did Conan a few nights ago, and a live segment for Pitchfork, but this was the band's first REAL show, and though pretty well rehearsed, an air of experimentation was palpable. They performed a number of songs as a duo, like the unreleased "1997," and Rossen did a couple of tunes solo, including an excellent cover of the Jo Jo song "Too Little Too Late" (dedicated to Grizzly Bear's Ed Droste), but the real highlights came when Department of Eagles played as a full band.

For those songs, Rossen and Nicolaus were joined by Christopher Bear of Grizzly Bear on drums, Angel Deredoorian of Dirty Projectors on keyboard, and Nat Baldwin on bass (who also opened the show with an interesting Arthur Russel cover). With this line-up, Department of Eagles' pop potential was fully realized. Rossen's effervescent croon is given new life with songs like "No One Does It Like You," and even though "In Ear Park" (most of their songs, really) has vocal harmonies that might be found on any Grizzly Bear track, there presence is reduced in the wake of more solid instrumentation. Department of Eagles are less about the slow build, as they are the steady rock, and it works""it really works. [Limewire]
Tons more pictures of Department of Eagles and opener Nat Baldwin after the jump.
Department of Eagles

Nat Baldwin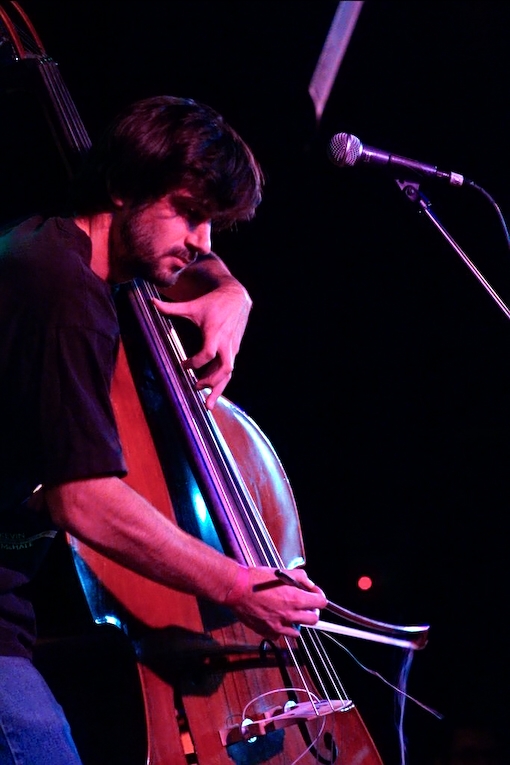 Photos by Tim Griffin