Brooklyn's own O'death (because Brooklyn needs a band to call its own doesn't it) are kicking off a big national tour tonight (Oct 30) with a record release show at MHOW. The new album, Broken Hymns, Limbs and Skin (Kemado) came out on Tuesday (Oct 28) and it's currently streaming in its entirety over at imeem.com and spinner.com. If you can't make the show tonight, (because of Halloween preparations and what not), you can always catch them when the tour comes to a close at the venerable Bowery Ballroom on December 5, 2008 with none other than Wye Oak in support.
O'death – Broken Hymns, Limbs and Skin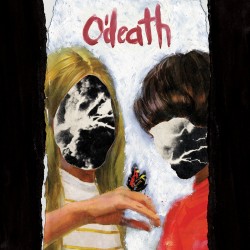 DOWNLOAD: O'death – "Lowtide" (mp3)
WATCH: Video for Lowtide
More O'death tour dates after the jump.
O' Death 2008 Tour Dates
Oct 30 – Music Hall of Williamsburg – Brooklyn, NY (w/ Hoots and Hellmouth, La Strada)
Oct 31 – Johnny Brenda's – Philadelphia, PA
Nov 01 – Johnny Brenda's – Philadelphia, PA
Nov 02 – T.T. The Bears – Cambridge, MA
Nov 03 – II Motore – Montreal, QUE Canada
Nov 04 – El Mocambo – Toronto, ONT Canada
Nov 05 – Mohawk Place – Buffalo, NY
Nov 06 – Beachland Ballroom – Cleveland, OH
Nov 07 – Jakes Nightclub – Bloomington, IN
Nov 08 – Empty Bottle – Chicago, IL
Nov 09 – Hideout – Chicago, IL
Nov 10 – 7th Street Entry – Minneapolis, MN
Nov 11 – The Picador – Iowa City, IA
Nov 12 – The Jackpot Saloon – Lawrence, KS
Nov 13 – Waiting Room – Omaha, NE
Nov 14 – Larimer Lounge – Denver, CO
Nov 15 – Urban Lounge – Salt Lake City, UT
Nov 17 – Media Club – Vancouver, BC Canada
Nov 18 – High Dive – Seattle, WA
Nov 19 – Doug Fir Lounge – Portland, OR
Nov 20 – Jambalaya – Arcata, CA
Nov 21 – Bottom of the Hill – San Francisco, CA
Nov 22 – Spaceland – Los Angeles, CA
Nov 23 – Casbah – San Diego, CA
Nov 24 – Modified Arts – Phoenix, AZ
Nov 26 – The Mohawk – Austin, TX
Nov 28 – Marquee – Tulsa, OK
Nov 29 – Off Broadway – St. Louis, MO
Nov 30 – Hi-Tone Café – Memphis, TN
Dec 02 – The Earl – Atlanta, GA
Dec 03 – Local 506 – Chapel Hill, NC
Dec 04 – Black Cat Backstage – Washington, DC
Dec 05 – Bowery Ballroom – New York, NY