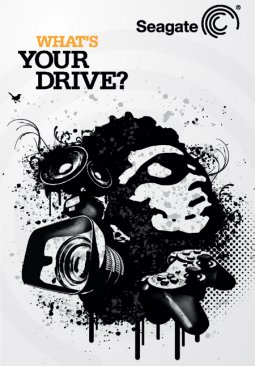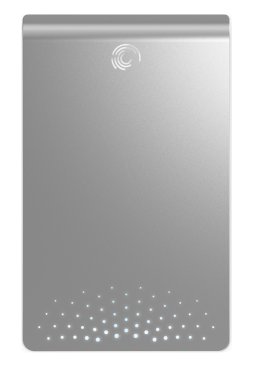 Hey, is your iPod overloaded? Did you take so many pictures at CMJ that you maxed out your macBook? Well, if either of those scenarios are true for you, or if you just want a cool new hard drive so you don't lose your life the next time your primary HD fails, then have I got a device for you. Queue the press release:
Seagate's flagship offering, the FreeAgent Go portable storage solution, is the slimmest external drive available today. At a height of only 12.5mm, the new FreeAgent Go easily fits in a pocket while still including all the advanced shock and vibration protection people have come to expect from Seagate. Another industry first, the new FreeAgent Go is the first external hard drive to offer a docking option, providing a practical way to move from the desk to the road, while leaving the hassle of fumbling with cables and locating USB ports to the history books. With up to 500GB of capacity, the FreeAgent Go bridges the gap between standard portable solutions and desktop solutions with enough storage to carry entire libraries of movies, pictures and music.
In all honesty, when you start racking up as many mp3s, CDs and photos as I have, storage is always a problem and this thing is USB 2.0 compatible and the form factor looks pretty awesome. So, in addition to shamelessly plugging this product, I'm happy to announce that I'm also giving away the 320 GB version of this bad boy (formatted for the Mac or PC) to one lucky bumpershine reader. To enter the contest for a chance to win, please click here and fill out the slick entry form (yes, something new). A winner will be chosen at random on November 13, 2008. (This contest is only valid for residents of the US and Canada.)
More tech specs for the Free Agent Go after the jump.
PC Requirements*
• Windows Vista Home Basic, Home Premium, Ultimate, or Business Service Pack-1
• Windows XP Home, Professional, Media Center Edition Service Pack-2
• USB 2.0 Port
* Compatibility may vary depending on user's hardware configuration and operating system
Product Dimensions
• 0.49 in H x 3.15 in W x 5.12 in L (12.5 mm x 80 mm x 130 mm) Weight: 5.64 oz (0.16 kg)
Performance Specs "¢ USB 2.0: up to 480 Mb/s
• Rotational Speed: 5400 RPM
Inside the Box
• FreeAgent Go drive
• FreeAgent software pre-loaded on drive (Windows only)
• Quickstart guide
• Flexible USB travel cable – 18 inches
• Optional dock and case sold separately