Smashing Pumpkins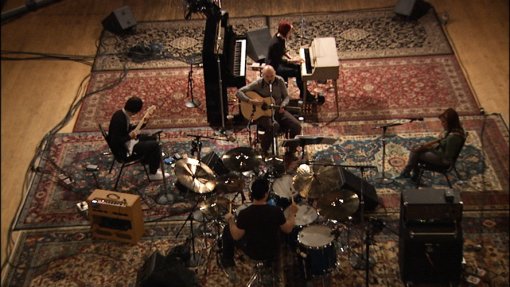 Video 1 | Video 2 | Video 3
The new Smashing Pumpkins double DVD If All Goes Wrong just came out last week and the inimitable Drake had a chance to review it, here's what he had to say:
If (and when) All Goes Wrong
Smashing Pumpkins broke up in 2000, by all accounts, it was the right time, as the band had seemingly run it's course. But after a failed attempt at both a supergroup (Zwan) and an abysmal solo release (TheFutureEmbrace) Billy Corgan decided to get the band back together, even taking out a full page ad in The Chicago Tribune to announce it before telling anyone — except, of course, drummer Jimmy Chamberlain, who it seems would follow Corgan into a burning building.
The documentary If All Goes Wrong picks up the story at the point where Corgan has picked his band replacements for original members James Iha and D'arcy Wretzky, who passed on the reunion, and the beginning of a series of shows in Asheville, NC and then San Francisco. At first glance, it seems the new members, Jeff Schroeder and Ginger Reyes, have been picked in part due to their passing resemblances to the folks they were replacing, giving more credence to the belief that their roles were more image to Corgan than musical. Of course, that could just be me being cynical.
We were once the Smashing Pumpkins. I don't know what we are now… good night!
– Billy Corgan, ending a trying concert at The Fillmore
Corgan, for his part, is gets awfully prickly when the subject of his old band mates are brought up. When asked why the new incarnation of SP doesn't play the songs "Soma" or "Mayonaise," Corgan mentions that Iha has co-writing credit for those songs, and after explaining the parts and playing a bit of "Soma," Corgan is so frustrated with the subject of Iha, he throws his guitar across the room. It's moments like this, though, that make the documentary watchable, the few times where Corgan accidentally lets us in on how he really feels about things. Too much of the documentary relies on adoring fans (and several random talking heads only credited as 'writer') to try and frame the story, as rarely do they have anything more meaningful to say than the cliches of "his music changed my life."
It's telling that we see nearly as much of Corgan in a bathrobe writing songs as we do of him on stage playing them, showing that he wanted to give access to his artistic process, but in the end, he comes off more of an egomaniac than what he probably was hoping to convey. Perhaps he saw himself like Jeff Tweedy in the Wilco documentary I Am Trying to Break Your Heart, but Corgan seems far more aware of the camera. The idea of writing a song during the day and debuting it later that night at a show is kind of cool in theory, but that's only if the songs will resonate, and, for the most part, they don't.
Gossamer Rehearsal in San Francisco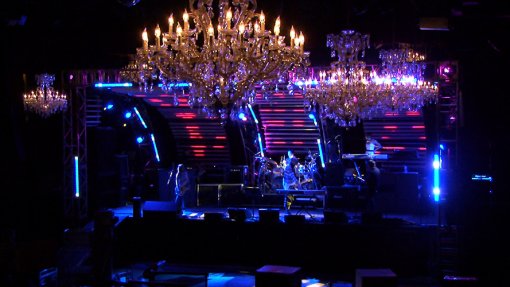 Besides playing all the new songs, SP also a play a tour-only beast of a song called "Gossamer" that runs anywhere between 20-38 minutes long, depending on how much Corgan feels like testing the audience. In Asheville, both Corgan and the audience are more patient, but in San Francisco, things turn a bit more adversarial, thanks in part to criticism in the press. (This mutual animosity between Corgan and more discerning audience members as carried over into some great fireworks at recent shows in New York.)
Along with the documentary, there's a concert film, piecing together songs from the Fillmore shows, featuring zero songs that would make a well edited greatest hits album (to be fair, one song,"Untitled," actually debuted on their Greatest Hits compilation, ) and a bonus relaxed set from the Fillmore floor (none of those pesky fans).
If that review knocked your socks off, or if you are a Pumpkins "completist", send an email to contests@bumpershine.com and and tell me which original Smashing Pumpkins members are part of the current touring lineup (please remember to include your mailing address with your entry) and you could win a copy of the double DVD for yourself. I'll be picking a winner by the end of day on Friday, November 21. In case you forgot, the Pumpkins are on tour now and they were just at United Palace Theater on November 6 and November 7 where they apparently pissed one or two people off with their sets. More detailed info about the DVD and the track list after the jump.
PS You might have noticed that I pulled this contest after it ran originally, so if you've already entered, there is no need to submit your name again, you are still eligible.
Here's a little more information about the new DVD from the press release:
Directed and produced by Jack Gulick (Bruce Springsteen, Metallica, Steve Miller Band, Godsmack) and Daniel E Catullo III (Steve Miller Band, Godsmack, Rush, Dave Matthews Band), the two DVD set contains the 105-minute documentary, also titled If All Goes Wrong, plus The Fillmore Residency, a full concert filmed in late July and early August of 2007 over five of the 11 sold-out nights at the famed Fillmore Auditorium in San Francisco, CA.

The concert disc was captured in 5.1 Surround Sound and state-of-the-art high definition from 12 cameras and features seven all new tracks not available anywhere else, along with new versions of fan favorites and a selection of Pumpkins rarities.
THE SMASHING PUMPKINS DISC 1:
*"If All Goes Wrong" documentary
*"Voices Of The Ghost Children" featurette
*Interview with The Who guitarist, Pete Townshend
THE SMASHING PUMPKINS DISC 2:
*The Fillmore Residency
1. The Rose March*
2. Peace + Love*
3. 99 Floors*
4. Superchrist
5. Lucky 13
6. Starla
7. Death From Above
8. The Crying Tree Of Mercury
9. Winterlong
10. Heavy Metal Machine
11. Untitled
12. No Surrender*
13. Gossamer*
14. Zeitgeist
Bonus Tracks: Live From The Floor Of The Fillmore
*"99 Floors"
*"Peace + Love"
*"No Surrender"
*"Mama"*
*"Promise Me"*
*previously unreleased