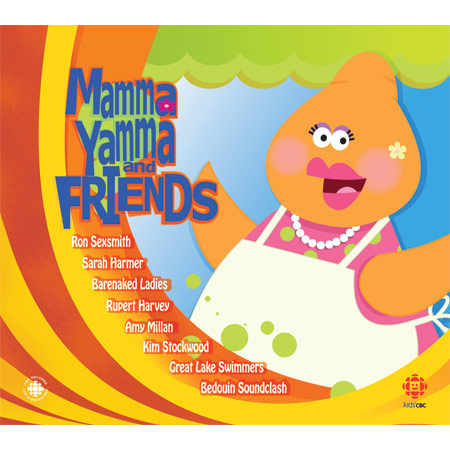 Though I usually leave it up to Drake to report on all the latest developments in kiddie rock, this new CD from Canada's Mamma Yamma & Friends seems to have slipped under his radar. Since 2007, Kensington Market's Mamma Yamma, (a giant yam puppet and staple of Kids CBC), has been serving up a bevy of delectable tunes alongside some of Canada's most popular musicians. Here's a little more information about the CD:
Starring this country's favourite yam, puppet sensation Mamma Yamma, Mamma Yamma and Friends showcases original performances by musical superstars such as Ron Sexsmith, Sarah Harmer, Barenaked Ladies, Bedouin Soundclash and Great Lake Swimmers as well as show-stopping original songs from Kids' CBC puppet stars Captain Claw, Saumon de Champlain and popular host Patty Sullivan.
Full Mamma Yamma tracklist after the jump.
Mamma Yamma & Friends Track Listing
01. You Can Dance – Drumheller & Patty (1:59)
02. Where Do You Live? – Canada (1:17)
03. Mamma's Kitchen – Mamma Yamma (1:55)
04. 7 8 9 – Barenaked Ladies (1:36)
05. Lemonade Stand – Ron Sexsmith & Don Kerr (3:04)
06. When You Gotta Go – Captain Claw (2:18)
07. Imagine That! – Patty (2:39)
08. Raisins – Barenaked Ladies (1:37)
09. Broccoli Song – Amy Millan (1:59)
10. Peanut Butter Toast – Sarah Harmer (1:30)
11. You Just Never Know – Mamma & Patty (2:05)
12. L'Aviron – Saumon de Champlain (3:39)
13. Jack Was Every Inch a Sailor – Kim Stockwood (2:48)
14. I'se the Bye – Captain Claw (1:31)
15. Bag of Bones – Drumheller (2:03)
16. We're Still Friends – Mamma / Saumon (2:06)
17. See You on the Moon – Great Lake Swimmers (4:12)
18. Kensington Town – Rupert Harvey (3:09)
19. When the Night Feels My Song – Bedouin Soundclash (3:07)