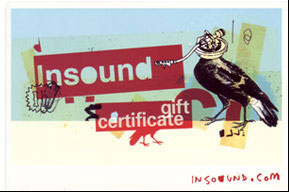 Hey everyone,
As it is basically Christmas already, I'm excited to announce that I'm giving away a $15 Gift Certificate from the Insound.com holiday gift guide (ok, it's no government bailout check, but it's better than a poke in the eye with a sharp stick).
Go here to enter the contest. One winner will be randomly selected on December 10, 2008.
PS Just to avoid any confusion, I think I should point out that you can spend the Gift Certificate on anything you want, but should you be stuck for a gift, the Insound.com gift guide may come in handy.