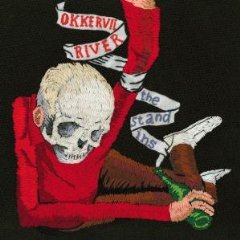 So, tomorrow is the big sold out Okkervil River show at The Bell House, but it's not the only exciting performance coming up at Gowanus' favorite live music venue. According to their website, the following bands are slated to make appearances at the BH in the near future:
The Bell House 2009 Calendar
01/06 Okkervil River, Chris Mills (Sold Out)
01/09 Great Lake Swimmers, Haley Bonar, Daniel Martin Moore
01/10 Project Jenny, Project Jan
01/15 Low vs. Diamond
01/18 The Forms, Frances, Ford & Fitzroy, & Arms (A Benefit for NYC After School Programs)
01/23 Ponytail, These Are Powers, Pattern Is Movement
01/24 Care Bears on Fire
01/26 An Evening with Duncan Sheik
01/28 Benjamin Taylor Band (son of James Taylor and Carly Simon), Schuyler Fisk (daughter of Sissy Spacek)
01/29 Gordon Gano (The Violent Femmes) & The Ryan Brothers (The Bogmen), The Lisps, Drink Up Buttercup, Corn Mo, .357 Lover
01/30 Joseph Arthur, Harper Simon (son of Paul Simon)
01/31 Joseph Arthur and The Lonely Astronauts, Harper Simon (Early Show)
01/31 The Thermals (Late Show – Tickets on sale 01/06 at 3pm, use code "SALTY")
02/07 Celebrate Brooklyn Winter Dance Party feat. Soulive
02/11 The Submarines, The Morning Benders
02/20 Tim Fite, Benjy Ferree, Deleon
02/22 Robbert Bobbert & The Bubble Machine (Robert Schneider from The Apples in Stereo)
02/28 Phosphorescent
Also, not listed on the website, but according to the in-venue poster, these acts are also coming soon:
03/06 The Bird and The Bee (Tickets on sale 01/06 at noon)
Le Loup
The Music Tapes
And finally, every Sunday from 1pm to 4pm, you and your kid can rock out to some great music and a bouncy castle at The Bell House Rocks!