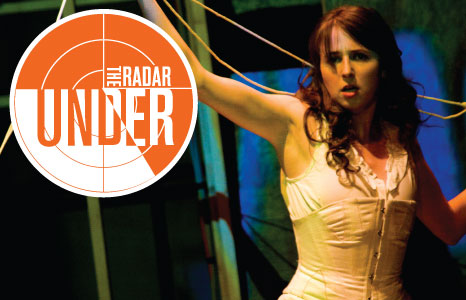 Even though it's already somewhat underway, I still thought I'd mention the Under The Radar Festival which is happening at The Public Theater and other venues around NYC until January 18th. All shows are $15, click here to purchase tickets.
One Under The Radar show that some readers here might find particularly interesting is Reggie Watts' Transition, described as a "…a cutting-edge comedic explosion of stereophonic effects and multimedia interactions." Sounds cool.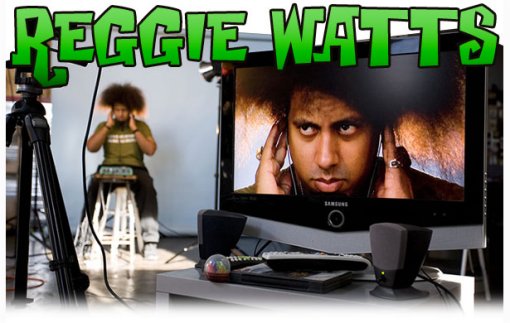 Full Under The Radar Festival show listings after the jump.
Architecting
Created by the TEAM
Directed by Rachel Chavkin
COUNTY OF KINGS: the beautiful struggle
Written and Performed by Lemon Andersen
Developed and Directed by Elise Thoron
First Love
Gare St. Lazare Players, Ireland
Into The Dark Unknown: The Hope Chest
Created by Holcombe Waller
Performed by Holcombe Waller and the Healers
LIGA, 50% reward & 50% punishment
Kassys (The Netherlands)
Sight is the sense that dying people tend to lose first
Written and directed by Tim Etchells
Performed by Jim Fletcher
the break/s: a mixtape for stage
Marc Bamuthi Joseph for The Living Word Project
Directed by Michael John Garcés
Transition
Performed by Reggie Watts
Created by Reggie Watts and Tommy Smith
Directed by Tommy Smith
Woyzeck
Sadari Movement Laboratory
In association with AsiaNow (Korea)
OFFSITE EVENTS
Addicted To Bad Ideas: Peter Lorre's 20th Century
By World/Inferno Friendship Society
Co-Conceived and Directed by Jay Scheib
WEBSTER HALL
Call Cutta In A Box
An intercontinental phone play by Rimini Protokoll (Haug/Kaegi/Wetzel)
GOETHE INSTITUT, NEW YORK
England
By Tim Crouch (UK)
CHELSEA ART MUSEUM
Pataphysics Penyeach: Summa Dramatica/Porco Morto
By Mabou Mines
Written and Directed by Lee Breuer
MABOU MINES STUDIO
Removable Parts
Created by Corey Dargel
Performed by Corey Dargel and Kathleen Supové
Directed by Emma Griffin
HERE ARTS CENTER
Siren
By Ray Lee
Performed by Ray Lee and Harry Dawes.
HERE ARTS CENTER
The Crumb Trail
Pan Pan Theatre
Written by Gina Moxley
Directed by Gavin Quinn
PERFORMANCE SPACE 122