Danko Jones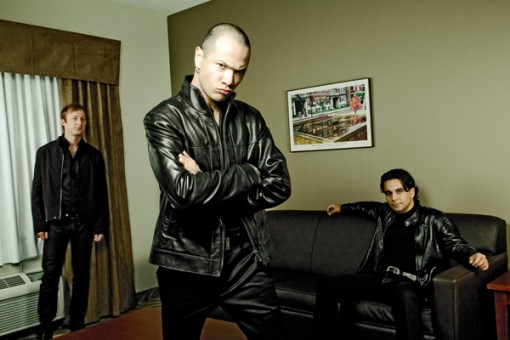 Just a little reminder, AC Newman's excellent new solo record, Get Guilty, comes out today (01/20) on Matador and he's playing an in-store gig tonight at Virgin USQ with Nicole Atkins to give people a little taste. Then after you've bought Carl's album and had him sign it, since it's an early show, you'll still have plenty of time to head on over to the Mercury Lounge to catch Canadian rockers, Danko Jones who are in town tonight to play one of only two US dates (LA being the other) before heading off on a massive European tour.
Danko Jones tour dates and a brand new AC Newman Dumbo Sessions video after the jump.
AC Newman Dumbo Sessions Part 2 – "The Changeling (Get Guilty)"

See all AC Newman tour dates here.
Danko Jones 2009 Tour Dates
Jan 20 2009 Mercury Lounge New York, New York
Jan 22 2009 The Knitting Factory – LA Los Angeles, California
Feb 24 2009 Watt Rotterdam
Feb 25 2009 Lille Vega Copenhagen
Feb 26 2009 Tyrol Stockholm
Feb 27 2009 Spegelsalen Sundsvall
Feb 28 2009 House Of Metal Fest Umeå
Mar 02 2009 Klubi – SOLD OUT Tampere
Mar 03 2009 Teatria Oulo
Mar 04 2009 House Of Culture Helsinki
Mar 06 2009 Samfundet Trondheim
Mar 07 2009 Rockefeller Oslo
Mar 08 2009 Ole Bull Scene Bergen
Mar 10 2009 B&B Halmstad
Mar 11 2009 Trädgårn Gothenburg
Mar 12 2009 KB Malmö
Mar 13 2009 Folkets Park Husqvarna
Mar 14 2009 Helsingborg Helsingborg
Mar 17 2009 Kesselhais Berlin
Mar 19 2009 Backstage Werk Munchen
Mar 20 2009 Flex Vienna
Mar 21 2009 Mascotte Zurich
Mar 22 2009 Schuur Luzern
Mar 24 2009 Longhorn Stuttgart
Mar 25 2009 La Trabendo Paris
Mar 26 2009 Handelbeurs Ghent
Mar 27 2009 Essigfabrik Cologne
Mar 28 2009 Tivoli Utrecht
Mar 30 2009 Schlachthof Weisbaden
Mar 31 2009 La Laitere Strassbourg
Apr 02 2009 Ninkasi Kao Lyon
Apr 03 2009 Garorock Festival Marmande (Bordeaux)
Apr 04 2009 L'Antipode Rennes