Coraline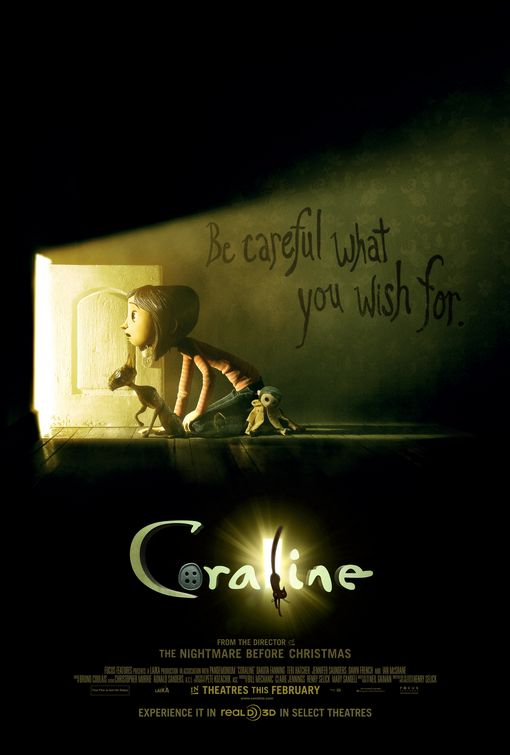 Coraline was the number 3 movie at the box office this past weekend (Feb 6-8), so that must make the MCC Theatre feel pretty good about its decision to stage a musical adaptation of the Neil Gaiman graphic novel starting in May 2009. Magnetic Fields front man Stephin Merritt is composing the music and lyrics for the new show.
MCC Theater has just announced a bit of unconventional casting news for its stage adaptation of the graphic novel by Neil Gaiman. Jayne Houdyshell, 55, who was nominated for a Tony award for her performance in "Well," will play the 9-year-old Coraline, who wishes for a better a life and finds a parallel universe that holds great promise (until she gets to know her new parents). David Greenspan wrote the book and will also play the creepy Other Mother. The music and lyrics are by Stephin Merritt, of the Magnetic Fields, and Leigh Silverman is the director. Previews begin May 7 at the Lucille Lortel Theater. [NYTimes.com]
Press release after the jump.
World Premiere
May 6-June 20, 2009
Coraline

Music and Lyrics by Stephin Merritt
Book by David Greenspan
Based on the Novel by Neil Gaiman
Directed by Leigh Silverman

Poor bored Coraline. She's left to rattle 'round her perpetually distracted parents' house all by her lonesome. Then one day, her dreams of a better reality are answered as she steps through an old oak doorway and passes into a perfected replica of her own world. Greeted there by a vastly loving Other Mother and kindly Other Father, she's thrilled! But, as the saying goes: Be careful what you wish for"¦

A musical like no other, Coraline sprang from the minds of three of the most wildly popular cult heroes of our time. Adapted from the truly terrifying children's book by Neil Gaiman (author of the international sensation Sandman), this tale of menace and mayhem is set to music and lyrics by smart-rock iconoclast Stephin Merritt (of The Magnetic Fields), and boasts a book by celebrated downtown actor-cum-auteur, David Greenspan, who serves double-duty as the villain, Coraline's suspiciously nurturing Other Mother.

For more information, please visit MCCTheater.com.

To purchase tickets, please visit Ticket Central.com or call (212) 279-4200.