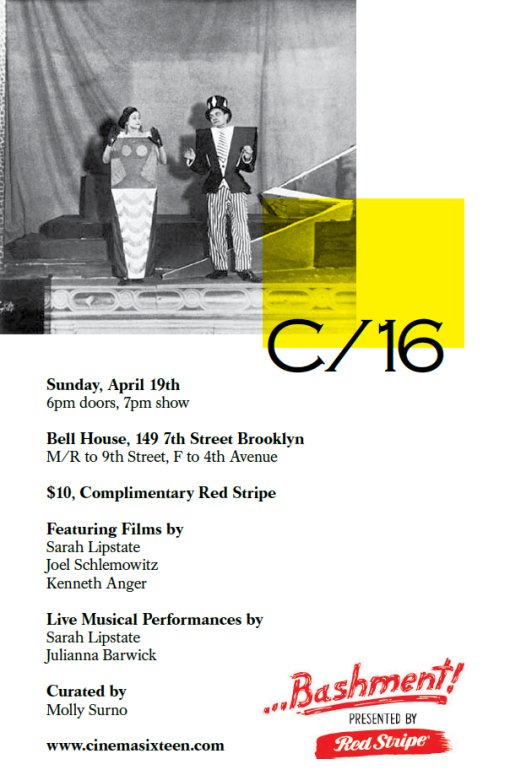 On Sunday, April 19, 2009, Cinema 16 returns to The Bell House in Brooklyn, NY, and will feature original scores by cutting edge musicians for a series of curated short films. Experimental Brooklyn musician and singer Julianna Barwick performs an original score for "1734" (a short by Joel Schelmowitz and "Pleasure Dome" by Kenneth Anger). Brooklyn filmmaker and sound artist (and also Parts & Labor guitarist) Sarah Lipstate as her solo project Noveller performs an original score to a selection of her own original films.

In the era of silent film, live music enhanced the moving picture and brought communities together with a visceral, interactive audio-visual experience. Today, when the film experience has been reduced to the tiny screens of our laptops and ipods, oftentimes experienced alone, Cinema 16 offers a revival of community.
Named after the New York-based avant-garde film society in 1947 and inspired by Maya Deren's Greenwich Village exhibition of experimental films, Cinema 16 pairs edgy contemporary musical artists with vintage films, curated and produced by photographer/curator Molly Surno. For over a year now, the passionate Surno has lovingly programmed these semi-monthly screenings and performances, melding the worlds of art, film and music.
WHEN: Sunday, April 19, 2009; 6pm doors; 7pm show
WHAT: CINEMA 16
WHERE: The Bell House (149 7th Street, Brooklyn, NY, 11215)
COVER CHARGE: $10
SPECIAL: Red Stripe Happy Hour from 6pm-7pm
ADVANCE TIX: Buy Tickets