Anni Rossi at the Bowery Ballroom (05/01/09)


Photo: Winnie Cheung
Pearl and The Beard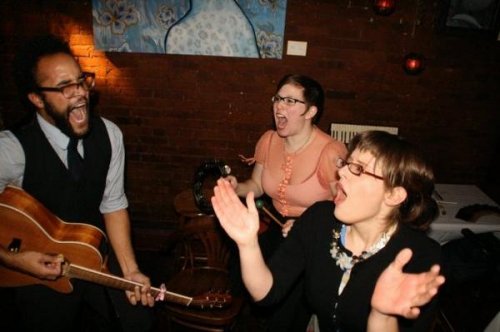 Cross Pollination
Anni Rossi and Pearl and The Beard
June 23, 2009
Pianos
Hey everyone, I'm very excited to announce that I'm co-curating my first ever show at Pianos on June 23 with two amazing artists: Anni Rossi and Pearl and the Beard. The show is part of the long-running weekly Cross Pollination concert series where two artists each play one 45 minute set on their own, then one 3 song set together. It should be a ton of fun, and I'm really looking forward to seeing what both of these bands can do on their own as well as together.
Anni Rossi
From Minnesota via Los Angeles and now based in Chicago, 23-year old Anni is a most exciting prospect. Having been classically trained since three years of age, she is an accomplished multi-instrumentalist and has been performing as a solo artist for the past few years. She has already extensively toured around Europe and the US (including support slots with The Ting Tings, Camera Obscura and Electrelane as well as being a member of Carla Bozulich's band) and has slowly gained herself both a great reputation and dedicated fanbase.
Anni signed to 4AD in mid-2008 and headed straight to Chicago's Electrical Audio studio to record Rockwell with Steve Albini. The results show it to have been a wise move. Mostly using tracks from her existing set ("Machine", "Ecology", "Wheelpusher"), the energy, depth and eccentricities of her live show have all been successfully translated onto record and where traditionally the viola formed the centerpiece to her music (often being the only instrument used), more come to the forefront here. What will surprise listeners most is the unlikely cover version of Ace of Base's "˜Living Danger', a cover so sublime you wouldn't know what it was unless told.
Anni Rossi's debut full length album, Rockwell is out now on 4AD.
Pearl and the Beard
Pearl and the Beard is three voices, one cello, one guitar, one glockenspiel, one melodica, several drums, one accordion, ninety-six teeth, and one soul.
Former strangers Jocelyn Mackenzie, Emily Hope Price, and Jeremy Styles were united in the great city of New York. Each had migrated there from a far corner of the nation with naught but food in their pockets and money in their bellies. Each had the same true love. Since then the three have nested, and their unique brand of brightly melodic songcraft continues to blossom of its own accord.
Pearl and The Beard's brand new record, God Bless Your Weary Soul, Amanda Richardson is available now from Family Records.
More pictures from Anni Rossi's recent gig at the Bowery Ballroom with Noah and The Whale and a full stream of the new record from Pearl and The Beard after the jump.
Anni Rossi at the Bowery Ballroom (05/01/09)